Collaborative project among four companies from UNY Group and ITOCHU Group ITOCHU Announces the Launch of Nagomi no Ice, with Exquisite Flavors of Japanese Sweets - a New Category in the Karada Smile Project
October 23, 2012
ITOCHU Corporation (headquartered in Minato-ku, Tokyo; Masahiro Okafuji, President & CEO; hereinafter "ITOCHU") announced today that UNY Co., Ltd. (headquartered in Inazawa City, Aichi; Tetsuro Maemura, President; hereinafter "UNY"), Circle K Sunkus Co., Ltd. (headquartered in Chuo-ku, Tokyo; Motohiko Nakamura, President; hereinafter "Circle K Sunkus"), FamilyMart Co., Ltd. (headquartered in Toshima-ku, Tokyo; Junji Ueda, President & CEO; hereinafter "FamilyMart"), and ITOCHU will launch the first flavors of Nagomi no Ice, a line of exquisite Japanese sweets, as described below. This will be part of the Karada Smile Project, collaboratively planned, developed, and executed by the four companies. In our quest to bring out the deliciousness of Japanese sweets by maximizing the flavor of fresh materials, we have developed a product that uses no milk or eggs.
UNY Group and ITOCHU Group will continue promoting the Karada Smile Project toward the future, providing valuable products and services to our customers.

Name of products
Nagomi no Ice, Kuromitsu Kinako (brown sugar syrup and toasted soybean flour flavor)

Nagomi no Ice, Maccha Azuki (green powdered tea and red bean paste flavor)


As changes in the social landscape continue to witness a growing elderly population, traditional Japanese sweets have recently been attracting attention as a market trend. Against this backdrop, in our desire to offer the taste of authentic Japanese sweets to a wide range of consumers in the category of ice creams, we have combined fresh ingredients to develop ices with the superb flavors unique to Japanese sweets.
Product Outline
Nagomi no Ice Kuromitsu Kinako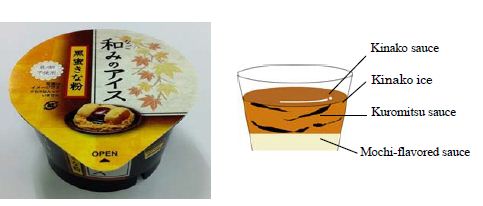 Nagomi no Ice Maccha Azuki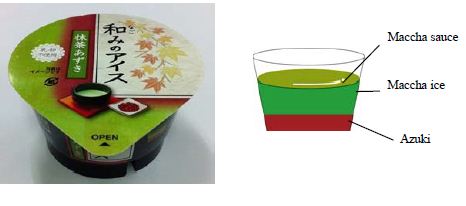 Product Name
Selling price
Quantity
Calories
Characteristics
Nagomi no Ice Kuromitsu Kinako

168 yen

(including tax)
115 ml
219 kcal
Combining kinako (toasted soybean flour) flavored ice with kinako sauce maximizes the fragrant flavor of kinako. Adding kuromitsu (brown sugar syrup) flavored and mochi (pounded rice cake) flavored sauce, which are excellent with kinako, produces a delightful combination of tastes.
Nagomi no Ice Maccha Azuki

168 yen

(including tax)
115 ml
178 kcal
Maccha (green powdered tea) sauce was added to maccha-flavored ice to maximize the flavor of Uji maccha. Adding azuki (red bean paste), an excellent match with maccha, makes a terrific taste combination.
Since no milk or eggs are used, the products fall under the category of "ice."
About the products
Ice with the chilled deliciousness of Japanese sweets
For moments when we crave Japanese sweets, now we can enjoy them straight from the freezer
Our special attention paid to quality
・Tastes, flavors and texture of the ingredients can be enjoyed
・Drawing out the tastes of the ingredients by combining the flavors
Carefully chosen ingredients and their combinations
We used carefully chosen ingredients and aimed at creating flavors unique to Japanese sweets through flavor combinations that enhance the tastes of these ingredients.

●Kuromitsu Kinako

| | |
| --- | --- |
| Carefully chosen kinako | Two types of kinako powder – strong-tasting kurosu kinako and fragrant kuromame kinako – are blended to maximize the flavor of kinako. |
| Combination with kinako | A layer of kuromitsu- and mochi-flavored sauces is added. These sauces are outstanding with kinako and bring out its full flavor. |

●Maccha Azuki

| | |
| --- | --- |
| Carefully chosen maccha | Uji maccha from Kyoto is used. Combining two types of maccha – one tasty and one bitter and sharp – expresses the taste and bitterness of maccha in an excellent balance. |
| Combination of maccha and azuki | Azuki, an excellent pairing for maccha, was added. Lightly sweetened azuki maximizes its flavor and texture. |

Non-use of milk and eggs
Our desire was to create an ice that enhances the taste and flavor of the ingredients, as with Japanese sweets, and through trial and error we succeeded in bringing out these qualities by eliminating milk and eggs.
Date of launch
Tuesday, October 30, 2012
The products will be on sale nationwide in all branches of Apita and Piago, which handle food items, and all stores of Circle K Sunkus and FamilyMart.
Available in the following stores: (as of the end of September 2012)
Apita and Piago (all stores dealing in food items)     216 stores in total
Circle K Sunkus (all stores)          6,259 stores in total
FamilyMart (all stores)           9,100 stores in total
Karada Smile Project
Founded in January 2008, the Karada Smile Project is a collaboration by four companies – UNY, Circle K Sunkus, FamilyMart and ITOCHU – with the aim of facilitating research and development on healthy products throughout the entire process of their production, starting at the raw material stage, in the context of consumers' increasing focus on health. Its first product was a lineup of high-fiber, low-calorie breads launched in January 2008, and this was followed by a fiber-rich yogurt. Both products were aggressively renewed in July 2011 and continue to be on sale.
---