ITOCHU Announces Its Smart Street Lighting Service Wins "Grand Prize for Energy Saving Service" at 9th Eco-Products Awards
November 29, 2012
ITOCHU Corporation (headquartered in Minato-ku, Tokyo; Masahiro Okafuji, President & CEO; hereinafter "ITOCHU") announced today that its Smart Street Lighting Service won the "Grand Prize for Energy Saving Service" at the 9th Eco-Products Awards organized by the Eco-Products Awards Steering Committee. This service is provided by ITOCHU in cooperation with Toshiba Lighting & Technology Corporation, Iwasaki Electric Co., Ltd., GS Yuasa International Ltd., Panasonic Corporation, and GE Consumer Products Japan, Ltd., all of which are Japanese companies that manufacture exterior lightings.
Aimed at further popularizing products and services with reduced environmental impact ("eco-products") in Japan, the Eco-Products Awards recognize products that incorporate environmental considerations and possess a high level of value for society. There are two award categories: Eco-Products and Eco-Services. Since the 8th Eco-Products Awards, the "Grand Prize for Energy Saving Product," "Grand Prize for Energy Saving Service," "Excellence Award for Energy Saving Product," and "Excellence Award for Energy Saving Service" have been granted to specially recognize products and services that contribute, or are expected to contribute, greatly to power conservation. These awards were introduced in response to the tight electricity supply-demand balance in the wake of the March 2011 Great East Japan Earthquake. The Smart Street Lighting Service won the grand prize in the Eco-Services category.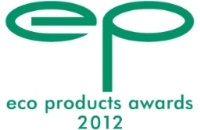 The Smart Street Lighting Service is designed to serve two purposes: reducing power consumption and carbon dioxide emissions and improving the efficiency of operating, maintaining, and managing streetlights. This is made possible by a power-line communications (hereinafter "PLC") compatible communications device installed on individual streetlights that enables transmission and receipt of data through existing power lines, which in turn enables remote control of each streetlight that includes fine adjustment of the brightness level in accordance with the environment, accurate monitoring of power consumption, cumulative total lighting hours, etc., without building a new communications network. The service is currently being demonstrated in Tsukuba City in a project commissioned under the Ministry of the Environment's "2011 Challenge 25 Regional Development Project."
Smart Street Lighting Service: Overview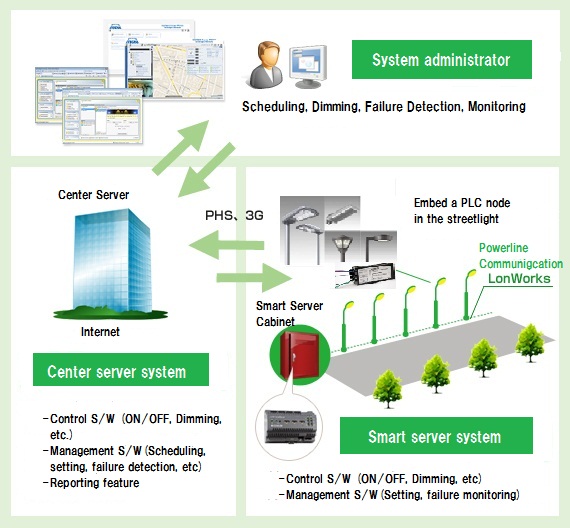 ITOCHU will use its winning of the award as an opportunity to promote activities for proposing the Smart Street Lighting Service to the national government, prefectural governments, local municipalities around Japan, expressways, car parking lots, and other targets, aiming to popularize the service as soon as possible.
---