Approval of Development of the Western Isles Development Project, U.K. North Sea
December 17, 2012
CIECO Exploration and Production (UK) Limited ("CIECO", London, U.K.), 100% owned subsidiary of ITOCHU Corporation (headquarters: Tokyo; President and CEO: Masahiro Okafuji; hereinafter "ITOCHU"), holding the working interest of Block 210/24a (Rest of Block) with Dana Petroleum (E&P) Limited, operator of the block and 100% owned subsidiary of Dana Petroleum Plc. (headquarters: Aberdeen, U.K. hereinafter "Dana"), has decided to jointly develop the newly discovered Harris and Barra oil fields in the aforementioned block (Western Isles Development Project, "WIDP"), and we are pleased to announce that the development plan was approved by the Department of Energy & Climate Change ("DECC").
In 1993, ITOCHU entered into oil and gas upstream business in North Sea by acquiring the working interests in the Hudson, Hutton and North West Hutton fields, followed by an acquisition of an interest in the Alba field in 2005. Managing those assets we have been continuously engaged in oil exploration and production business in North Sea.
With regard to WIDP, CIECO joined the exploration activity in 1996 and it has contributed its technical and commercial knowledge accumulated working in the North Sea to see WIDP to the development stage. CIECO will continue to use its experience to bring WIDP to production and, moreover, expand its upstream business.
Recoverable oil reserves of WIDP is estimated over 45 million barrels and the cost to develop the Harris and Barra fields is expected to be at US$1.6 billion. First oil is expected in 2015 and CIECO estimates that it will increase ITOCHU's net production approximately 10,000 barrels oil per day. In the first half of 2012, ITOCHU's production rate was approximately 60,000 barrels oil equivalent per day. CIECO will be provided financial guarantees for WIDP by Japan Oil, Gas and Metals National Corporation (JOGMEC).

Dana Petroleum Plc.
Formal Name
Dana Petroleum Plc.
Address
U.K. Aberdeen
Established
1994
Employees
520
Owner
Korea National Oil Corporation (acquired Dana Petroleum in 2010)
Business

Exploration, development and production of oil and gas.

Holds assets as an operator in U.K., Egypt, Norway, and five other countries.

Revenue
1,088Million GBP
Other

ITOCHU established a strong relationship with Dana upon their acquiring

interest in Block 210/24a (Rest of Block) in 2002. Dana became operator of

WIDP in 2007. ITOCHU will have staff on site in Dana to jointly promote WIDP.
Block Map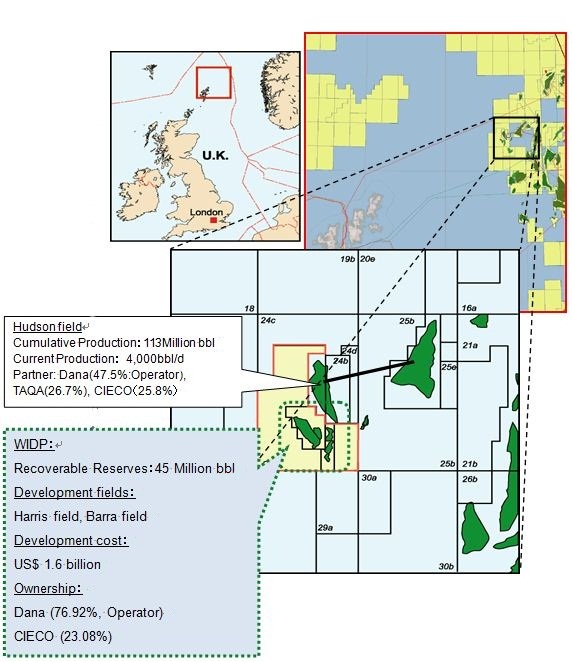 ---