Acquisition of Asian Fresh Produce Business and Worldwide Packaged Foods Business of Dole, World's Largest Producer and Marketer of Fresh Fruits and Vegetables
December 25, 2012
ITOCHU Corporation (headquartered in Minato-ku, Tokyo; Masahiro Okafuji, President & CEO; hereinafter "ITOCHU") announced today that ITOCHU has signed an exclusive Acquisition Agreement with Dole Food Company, Inc. (headquartered in Westlake Village, California, USA; hereinafter "Dole") contemplating a transaction pursuant to which ITOCHU will acquire the Asia fresh produce business and the worldwide packaged foods business (hereinafter "acquired businesses") currently owned by Dole through Dole International Holdings, Inc. (hereinafter "DIH"), which was established by ITOCHU on October 23, 2012, from Dole for a total of 1.685 billion U.S. dollars (approximately 135 billion yen). The Acquisition Agreement and transaction have been approved at an extraordinary meeting of shareholders of Dole held on December 6, 2012 (North America, Western Standard Time).
The transaction is due to be consummated immediately upon obtaining the approval of the competition authorities in the relevant countries and upon fulfilling the other terms and conditions stipulated in the Acquisition Agreement.
Dole, which was founded in 1851, currently operates a fresh produce business that produces bananas and pineapples and a packaged food business that produces packaged fruits and vegetables in over 90 countries worldwide, including North America, South America, Asia and Europe.
Dole owns farms, transportation facilities such as refrigerated container vessels, as well as other assets such as ripening, processing and shipping facilities. It produces and distributes bananas, pineapples and packaged fruits, among other items, handling all processes to supply products to countries around the world.
In the fresh produce business, Dole is one of the world's largest suppliers of bananas and pineapples and has the largest market share in Asia, the market covered by this transaction (market shares in Asia in 2011: 25% in bananas and 42% in pineapples). Dole has also been developing new products, such as Sweetio Banana, with a high sugar content, and Sweetio Pineapple, with a strong flavor. This development takes place under comprehensive quality control, harnessing the knowledge and technologies Dole has developed over its long history.
Dole began its packaged foods business with the cultivation of pineapples and a canning business, before expanding into the development of new products such as fruit cup, fruit jar and yoghurt coated fruits bite , in addition to canned fruit and vegetables for commercial and professional use. In the particularly large North American market, Dole's packaged foods business has a number of product families that enjoy leading market shares (market shares in North America in 2011: 56% in canned pineapples, 57% in pineapple juice, and 54% in fruit bottles).
The Dole Asia fresh produce business has developed excellent brand awareness in Japan which is the biggest importing country of banana and pineapples in Asia. It is the largest importer of bananas and pineapples in Japan. ITOCHU has built a strong relationship with Dole, supporting its business operation over nearly 50 years as a business partner in Japan. ITOCHU and its group companies (hereinafter the "ITOCHU Group") operate a broad array of food-related businesses on a global scale. ITOCHU aims to become the leading company in the world food industry by executing its Strategic Integrated System (SIS) strategy, which facilitates efficient production, distribution and sales globally while working to upgrade the control function for food safety and security, and also by organically combining functions from the development of food resources to the supply of basic ingredients, manufacturing and processing, intermediate distribution and retail, with customer needs as its starting point.
The ITOCHU Group will continue to pursue globalization using its international production, processing, distribution and sales systems, built by the Group based on the SIS strategy above, and integrating them with the management resources of the acquired businesses, such as high brand awareness worldwide and the production, processing and sales of fresh produce. More specifically, the Group will execute the following:
Development and operation of new products and businesses using the Dole brand, and
Sales expansion of existing products of Dole using the distribution network of ITOCHU, etc.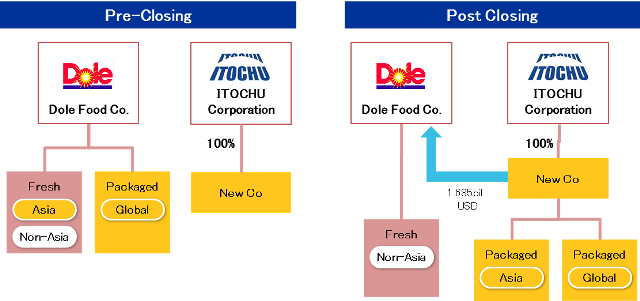 Overview of Dole Food Company, Inc.
Company name
Dole Food Company, Inc.
URL
http://www.dole.com/
Head office
One Dole Drive, Westlake Village, California, USA
Established
1851
Net sales
7,224 million U.S. dollars
Number of employees

Regular employees: approx. 34,500

Other employees: approx. 36,600
Overview of Dole International Holdings, Inc. (as of December 25)
| | |
| --- | --- |
| Company name | Dole International Holdings, Inc. |
| Head office | Minato-ku, Tokyo |
| Representative | Yutaka Yamamura |
| Established | October 23, 2012 |
| Capital | 7,500,000 yen |
| Shareholder composition | ITOCHU 100% |
---