President's New Year message for 2013
January 4, 2013
A happy New Year to you all!
I would like to start the new year by greeting all ITOCHU Group members in Japan and around the world.
In my New Year's message last year I noted that in 2012 it would be even more important than usual to practice "Cutting and Preventing" in light of an increasingly harsh environment for us sogo shosha. I noted that the European economies seemed unable to end their financial crisis and that the effect of this would cause emerging countries to make adjustments likely to affect the global economy and depress resource prices. Looking back, I think it has been an even tougher year than I had envisaged. The fiscal deficits and over-investment that had ailed advanced countries as side effects of post-2008 economic stimulus policies suddenly reared their heads in emerging economies as well. Notable among these was the slowdown in the Chinese economy, a trend which I fear seems likely to continue. As a major consumer of resources, China was forced to adjust its inventories, which sent resource prices tumbling. This was compounded by a Chinese boycott of Japanese products touched off by the Senkaku Islands incident. While this had only a slight direct impact on the ITOCHU Group, the indirect fallout was significant.
Amid this severe business environment, ITOCHU realized a long-held ambition: with the announcement of our financial results in March 2012, we finally broke out of fourth position to take back the third place among sogo shosha. This fiscal year also looks promising, with our first half results achieving more than 50% of our full-year forecast. While other sogo shosha are revising their forecasts downward, we still have our sights set on achieving our target for the year. But we are still only in third place. Moreover, the large gap between us and the two companies above us, who had been benefiting from high natural resource prices, is due not only to earnings but also financial strength. The road before us is not a smooth one, but the first step is to work tirelessly and innovate ceaselessly in order to grow until we stand on the same plane with these two companies --that is, until we truly constitute "one of the big three."
This year will be even more uncertain and the future even more opaque, with a harsh business environment predicted. We must strengthen our preparations for sudden and unforeseen changes in the business environment. We will begin a new medium-term plan from April. To lay the groundwork for it, I would like everyone first to make a supreme effort to achieve the targets of our current medium-term plan, "Brand-new Deal 2012."
The new year has already started, and I will finish my message here, praying for prosperous business for the ITOCHU Group around the world this year, and for the health and safety of all our employees and their families.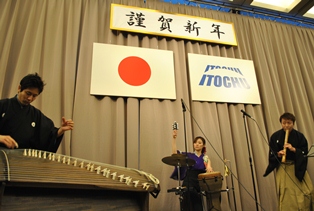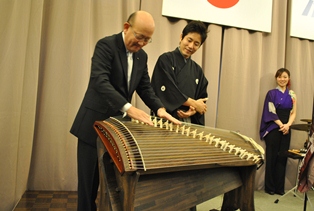 ---