ITOCHU Announces Expansion of U.S. Casual Bag Brand LeSportsac into Developing Countries
April 1, 2013
ITOCHU Corporation (headquartered in Minato-ku, Tokyo; Masahiro Okafuji, President & CEO; hereinafter "ITOCHU") announced today that it has concluded an exclusive distributorship agreement with JASHANMAL NATIONAL COMPANY LLC (headquartered in Dubai, U.A.E; hereinafter "JASHANMAL") on the expansion of the LeSportsac, U.S. casual bag brand, for which ITOCHU holds worldwide trademark and distribution rights, in five Middle Eastern countries, namely the United Arab Emirates (U.A.E.), Kuwait, Qatar, Oman and Bahrain. Full-scale expansion will start in autumn 2013.
JASHANMAL was founded in Iraq in 1919 as a general merchandise store, and today is general corporate group engaged in the retail and wholesaling of a vast array of items including luggage, fashion and home interiors. The company maintains more than a hundred directly-operated stores including its own department stores, and is accelerating its expansion of leading Western retail brands including luggage brands Rimowa and DELSEY, and fashion labels Bally, Kate Spade and Burberry.
As part of its global strategy for the LeSportsac brand, ITOCHU has positioned markets in developing countries where heightened demand is expected against a backdrop of high economic growth as some of its priority future bases. Ahead of this latest expansion into Middle Eastern markets, last year the brand began its foray into South American countries, chiefly Brazil and Uruguay. In October last year, Brazil's first LeSportsac store opened at the upmarket fashion mall Villa Olympia in Sao Paolo, followed by the December opening of the second store at the Galeria Campinas mall in the Sao Paolo suburbs. In Uruguay, a store has also been established in the luxury resort district of Punta del Este.
Meanwhile, with expanding market size against a backdrop of abundant energy resources, the Middle East is one of the regions generating the most attention, and in particular the expansion into Dubai, which sports a booming tourism industry, is expected to contribute significantly to improved value for LeSportsac as a truly global brand.
In terms of specifics, the expansion will kick off from autumn 2013 with the establishment of floor space inside JASHANMAL department stores, which has outlets at major world-renowned fashion malls such as the Dubai Mall and Mall of the Emirates. Next, the establishment of flagship stores in major shopping malls in each country will be considered. ITOCHU also plans to expand the brand into countries such as Saudi Arabia, Egypt and Lebanon, and plans to generate sales of three billion yen (on a retail basis) from developing markets in South America, the Middle East and elsewhere in five years' time.

1st Store in Brazil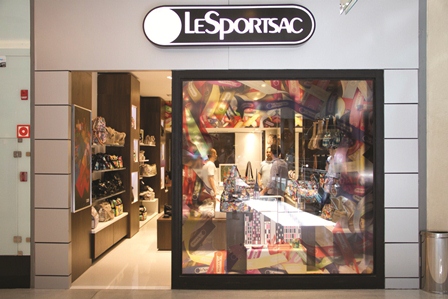 ---