Conclusion of Energy Sales Contract for Sarulla Geothermal IPP Project in Indonesia
April 4, 2013
ITOCHU Corporation (headquartered in Minato-ku, Tokyo; Masahiro Okafuji, President & CEO; hereinafter "ITOCHU") announced today that as of April 4, 2013, ITOCHU, Kyushu Electric Power Company Incorporated (headquartered in Fukuoka City, Fukuoka; Michiaki Uriu, President; hereinafter "Kyushu Electric Power"), PT Medco Power Indonesia and Ormat Technologies, Inc. in the United States have concluded a 30-year power purchase agreement (Energy Sales Contract, hereinafter "ESC" ), through the investment subsidiaries owned by each of the companies and jointly established operating company, Sarulla Operations Ltd (headquartered in the Cayman Islands) with Indonesia's state-owned electricity company, PT Perusahaan Listrik Negara (PLN) and PT Pertamina Geothermal Energy (PGE), a subsidiary of PT Pertamina. The ESC includes the development of a geothermal resource concession owned by PGE in Indonesia's Sarulla region in North Sumatra, construction of a geothermal plant with a total capacity of approximately 330 MW and sales of generated power to PLN.
Owing 40% of the world's potential geothermal resources, Indonesia holds the world's largest amount of such resources. The country positions geothermal energy as its strategic power source. Under the second 10,000 MW acceleration program, which was formulated in 2010, approximately 40% (about 4,000 MW) of its total planned capacity will be supplied by geothermal power generation. This independent power producer (IPP) project is the largest single contract geothermal power project in the world, and is a core project of the second 10,000 MW acceleration program. It is expected that the funds will be secured through project financing supported mainly by the Japan Bank for International Cooperation and the Asian Development Bank. When the financial closure is completed, the construction of the plant will begin aimed at gradual commencement of commercial operation from 2016.
Geothermal power generation is a technology for generating electricity using high-temperature and high-pressure steam and hot water extracted from geothermal reservoirs deep underground. Geothermal power is a sustainable energy resource, enabling almost indefinite use by reinjecting ground water properly back into the reservoir. It has less impact on the environment since CO2 emissions during generation are very small. It is also capable of stable supply throughout the year since it is not affected by weather, unlike other renewable energy resources. Accordingly, much expectation is being given globally to utilization of geothermal energy as an important renewable energy source for the future power generation.
ITOCHU will contribute to the Indonesian government's policy of promoting geothermal energy through this project and continue to be active in the power generation business promoting renewable energy resources such as geothermal energy and wind power.

Outline of Sarulla Geothermal IPP
Location
Sarulla region, North Sumatra province, Republic of Indonesia
Power generation method
Geothermal power generation
Capacity
330 MW
Investors

ITOCHU Corporation 25%

Kyushu Electric Power 25%

PT Medco Power Indonesia 37.25%

Ormat Technologies, Inc. 12.75%

Purchaser of produced power
PT PLN
Contract period
30 years after commencement of commercial operation
Schedule

2014 Groundbreaking

2016 Phase 1 Commercial operation

2017 Phase 2 Commercial operation

2018 Phase 3 Commercial operation
Outline of foreign partners
PT Medco Power Indonesia
An Energy company owned by Indonesia's largest private energy company PT. Medco Energi International Tbk, whose business include oil & gas source development, LP gas production, drilling, coal mining, power generation, and O&M service of power plants. It also holds several gas fired power plants in Indonesia.
Ormat Technologies, Inc.
Only company in the world that comprehensively develops, produces main equipment, construct, invest, and operate in the geothermal generation field. It has supplied geothermal generation equipment of 1600 MW to 13 countries in the past. It currently owns and operates 575 MW of geothermal power plant assets.
Project Site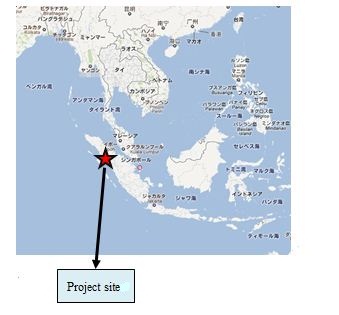 ---