ITOCHU Announces Its Involvement in a Joint Production of a TV Program in Indonesia and Related Licensing Business
May 17, 2013
ITOCHU Corporation (headquartered in Minato-ku, Tokyo; Masahiro Okafuji, President & CEO; hereinafter, "ITOCHU") today announced its involvement with PT. Global Mediacom Tbk (hereinafter, the "GMC Group"), Indonesia's largest media conglomerate, and Ishimori Production Inc. (headquartered in Shibuya-ku, Tokyo; Akira Onodera, President; hereinafter "Ishimori Production") in a joint production of "BIMA Satria Garuda" (or BIMA the Garuda Warrior, hereinafter, "BIMA"), a science-fiction hero drama series for children that will be the first of its kind in Indonesia, and that the company has signed an exclusive contract to be the master licensee for any licenses related to the program, marking its entry into the Indonesian licensing business.

As the overseas sales agent for Ishimori Production, which owns the works of manga artist Shotaro Ishinomori, known for the Kamen Rider and Cyborg 009 series, ITOCHU helped the company export its original work to the GMC Group. ITOCHU also took advantage of its experience in the Japanese media business to serve as business producer, bridging the two nations in bringing Japanese know-how to Indonesia.

ITOCHU has also entered into an agreement with the GMC Group to jointly develop and expand the licensing business in Indonesia. In its latest licensing endeavor for BIMA, ITOCHU will manage the program's licenses as the master licensee and will partner with Japanese and non-Japanese manufacturers and other businesses to commercialize the characters in the program and help sell merchandise in broadcast-related fields.

The Indonesian Market
With approximately 240 million people, Indonesia has the fourth largest population in the world, and a large percentage of young people, as about 40% of its overall population is 20 years old or younger. Due to the country's recent economic growth, the nation's rapidly expanding middle class is believed to be the largest in Southeast Asia, and is a very appealing consumer market. As it is also known to be a pro-Japanese nation, Indonesia is a strong target market for Japanese media content.
About the GMC Group
Indonesia's largest media conglomerate, the GMC Group is centered around RCTI, the nation's first private TV station, which broadcasts nationally, and owns three national TV stations in a business that spans a broad range of media, including newspapers, radio, magazines, and web and mobile content.
About BIMA
Adapted from a Japanese work, BIMA will be produced with the support of Japanese production know-how, but will be completely localized. The cast will consist of Indonesian actors and actresses and the entire series will be filmed locally in the Indonesian language, to offer local viewers a greater sense of connection and enjoyment. Stella Cornelia of JKT48, the sister group to AKB48, is being cast as the heroine.
<Press announcement of local production (May 7, 2013)>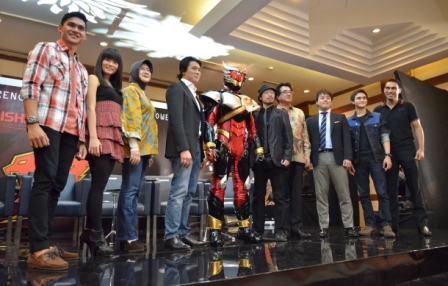 <TV schedule>Consisting of a total of 26 episodes, the series will air on terrestrial broadcaster RCTI on Sunday mornings starting June 30, 2013.
<RCTI official video>http://www.youtube.com/watch?v=KQG7WFO-uVw

---