ITOCHU Announces Blue Les Copains Brand Development
June 7, 2013
ITOCHU Corporation (headquartered in Minato-ku, Tokyo; Masahiro Okafuji, President & CEO; hereinafter "ITOCHU") announced today that ITOCHU and Toray Diplomode, Inc. (headquartered in Minato-ku, Tokyo; Toru Chiba, President; hereinafter "Toray Diplomode") will launch sales of Blue Les Copains, the Diffusion line of the Milano collection brand Les Copains, built up by the Italian company BVM S.p.A. (headquartered in Bologna, Italy; Franca Bandiera, President; hereinafter "BVM"), at main retail stores nationwide starting with the 2014 spring and summer collection. ITOCHU and BVM have concluded an exclusive sales and distribution contract for the brand in Japan, with Toray Diplomode acting as the general sales agent.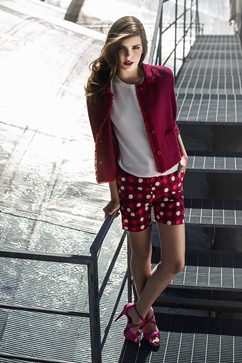 The Diffusion line of the Les Copains high-quality knitwear brand created in Bologna, Italy, is based on a line of sportswear launched in the 1980s, and was relaunched as the independent label Les Copains Blue in the 1997-1998 fall/winter collection. As of the 2014 spring/summer collection, the name will change to Blue Les Copains, the logo will be refreshed, and the collection will be rolled out under the Blue label.
Based on the design skills and technical strength of the Italian top brand, Les Copains, the Blue label is rolling out a contemporary and casual collection that will always show women in the best light whether in a business context or on holiday.
The label is targeted at urban, international and modern women who are always interested in something new; women with good taste who are also selective about the feel of fine quality, comfort, and price.
The label is aimed at customers ranging in age from their 20s to 50s, but it is assumed that it will mainly attract buyers in their late 30s and 40s.
The proposed price range is an affordable 60,000 to 90,000 yen for the main items including knitwear, dresses and jackets.
Toray Diplomode is aggressively expanding the import brand business, and will develop sales channels for the brand focused on highly discerning specialty stores and some department stores. The expected sales target in the initial financial year is 700 million yen on a retail price basis.
There will be three exhibitions of the collection in Japan. The first one of about 200 models from the main collection is taking place over three days from Tuesday June 25th to Thursday June 27th, and the second one with about 100 models from the follow-up collection will show for a period of three days from Tuesday July 16th to Thursday July 18th at the Toray Diplomode head office in Nishi-Azabu, Tokyo.
(Please refer to the table below for the Osaka and Fukuoka exhibitions.)

Venue
First
Second

Tokyo 

At Toray Diplomode Tokyo head office
Tuesday, June 25 to Thursday, June 27
Tuesday, July 16 to Thursday, July 18

Osaka

At Toray Diplomode Osaka branch
Tuesday, July 9 to Thursday, July 11
Tuesday, July 23 to Thursday, July 25

Fukuoka

At Toray Diplomode Fukuoka branch
Tuesday, July 16 to Thursday, July 18
Tuesday, July 30 to Thursday, August 1
Official website: http://www.lescopains.com

Price range by item
Knitwear 60,000-70,000 yen  
Dresses 50,000-70,000 yen 
Jackets  70,000-100,000 yen
Suits    90,000-130,000 yen
Skirts   30,000-60,000 yen
Pants    30,000-40,000 yen and so on
Outline of Toray Diplomode, Inc.
Company name

Toray Diplomode, Inc.

President
Mr. Toru Chiba
Head Office
4-16-13 Nishi-Azabu, Minato-ku, Tokyo (No. 28 Mori Bldg.)
Established

August 23, 2007

Capital
490,000,000 yen (wholly owned by Toray Industries, Inc.)
Employees
170 persons
Business

(1) Import, manufacture and sell women's clothing and accessories

(2) Manufacture and sell swimwear

(3) Brand licensing business in collaboration with overseas partners etc.
---