ITOCHU Announces Participation in Oil and Gas Exploration Project in Eastern Siberia
September 24, 2013
ITOCHU Corporation (headquartered in Minato-ku, Tokyo; Masahiro Okafuji, President & CEO; hereinafter "ITOCHU") announced today that both ITOCHU and INPEX CORPORATION (hereinafter "INPEX") submitted bids in response to the solicitation undertaken by Japan Oil, Gas and Metals National Corporation (hereinafter "JOGMEC") concerning the sale of shares of Japan South Sakha Oil Co., Ltd (a wholly owned subsidiary of JOGMEC, hereinafter "JASSOC"), which is promoting oil and gas exploration in the Zapadno-Yaraktinsky Block (hereinafter the "ZY Block") and Bolshetirsky Block (hereinafter the "BT Block") located in Irkutsk Oblast, Eastern Siberia, Russia. As a result of the acquisition of these shares, of the total of 340 shares of the outstanding stock of JASSOC, 43 shares (12.6%) are now owned by ITOCHU, and 42 shares (12.4%) are now owned by INPEX.
The ZY Block and BT Block are onshore blocks located approximately 700 kilometers north of Irkutsk, the capital of Irkutsk Oblast, with block areas of approximately 4,835 square kilometers and approximately 3,307 square kilometers, respectively. Prior to the share acquisition, Closed Joint-Stock Company "INK-Zapad" (*) (hereinafter "INK-Zapad") (the operator), which was established jointly by JOGMEC through JASSOC, and Irkutsk Oil Company LLC, one of the largest independent oil and condensate producers in Russia by reserves (hereinafter "INK"), had been conducting exploration operations in these two blocks, where the oil and gas reserves had already been discovered as a result of exploration activities. ITOCHU, INPEX, and JOGMEC will continue the exploration activities in the ZY Block and BT Block through JASSOC in the future, and will review the feasibility for the transition to the development phase.
(*) Equity contributions to INK Zapad by JASSOC and INK are 49% and 51%, respectively (please refer to the structural diagram below).

Outline of Irkutsk Oil Company
| | |
| --- | --- |
| Name of company | Irkutsk Oil Company, LLC (unlisted) |
| Principal office | Irkutsk Oblast, Russian Federation |
| Chairman | Mr. Nikolay Buynov |
| Established on | November 27, 2000 |
| Number of employees | Approx. 2,500 |
| Description of business | Exploration, development, and production of crude oil and gas at onshore blocks in Russia |
Structural diagram of business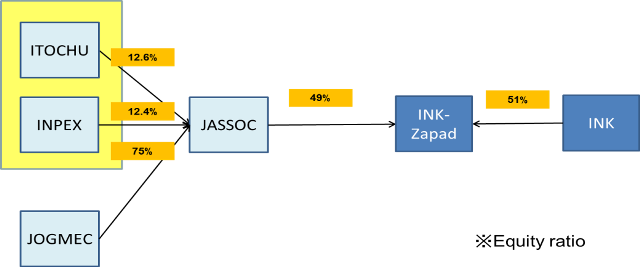 Block location map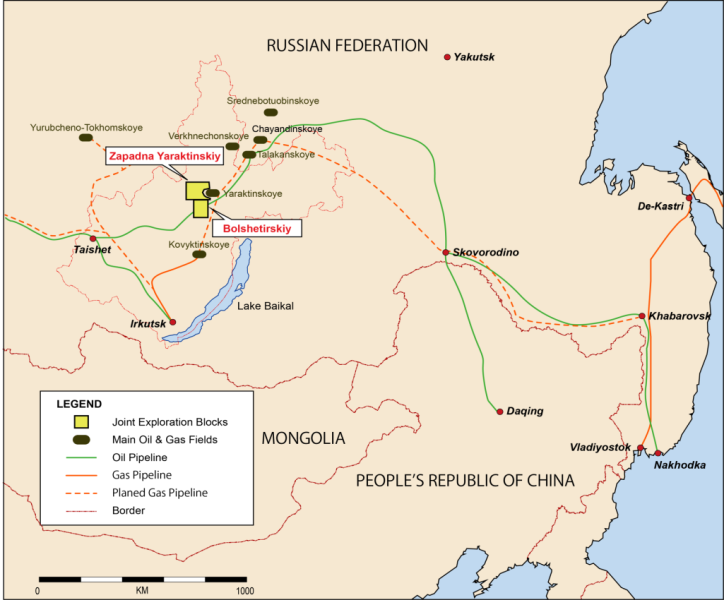 ---