ITOCHU Announces Establishment of New Company, Converse Apparel
September 30, 2013
ITOCHU Corporation (headquartered in Minato-ku, Tokyo; Masahiro Okafuji, President & CEO; hereinafter "ITOCHU") and MINOYA Co., Ltd. (headquartered in Gifu-shi, Gifu; Morihiko Kinomura, Representative Director and President; hereinafter "MINOYA") announced today that they have established Converse Apparel Co., Ltd., a joint venture aimed at strengthening marketing, planning, production and sales of Converse brand apparel products (hereinafter "Converse Apparel").
By investing their respective expertise and management resources, ITOCHU and MINOYA will aim to further improve the value of the Converse brand and its market expansion in the competitive, rapidly changing market environment.
In the market deployment of the Converse brand in Japan, ITOCHU, which owns the trademark right, undertakes branding and marketing, with Converse Japan Co., Ltd. (hereinafter "Converse Japan") being the master licensee, by cooperating with sublicensees including Converse Footwear Co., Ltd. (hereinafter "Converse Footwear"). ITOCHU and MINOYA have been contributing to improving the value of the Converse brand in the Japanese market for 20 years since concluding a sublicensing agreement on casual wear in 1993. The companies established the new company with the belief that collaborations with footwear providing the core items are more necessary than ever for continuing to maximize the two strengths of the Converse brand: its more than 100 years of history and its support from a wide range of consumers, in the apparel industry which has a high number of competing brands.
By further strengthening cooperation with Converse Japan and Converse Footwear, Converse Apparel will enter new sales channels such as store operation and sports distribution, while also increasing projects linked with footwear. In this way the company will aim to achieve retail sales of 15 billion yen in three years.

Overview of the new company
Company name
Converse Apparel Co., Ltd.
Head office
5-112 Yanaizu-cho Takakuwa, Gifu-shi, Gifu
Fiscal year-end
March
Representative

Representative Director and Chairman: Morihiko Kinomura (serving concurrently as the Representative Director and President of Minoya)

Representative Director and President: Yoshihiro Fukushima (loaned from ITOCHU and serving concurrently as the Director and Chairman of Converse Footwear Co., Ltd.)

Purpose of establishment
Marketing, planning, production and sales of Converse brand apparel products
Brand logo

Advertisement image for autumn and winter 2013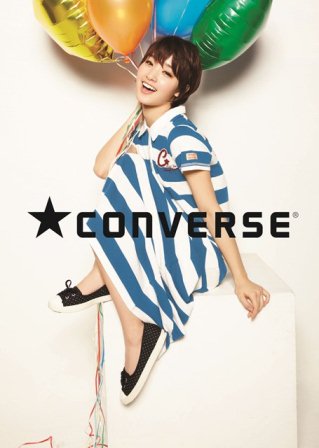 ---