ITOCHU Announces Cooperation in Launch of Euglena & Yogurt Using Euglena Produced on Ishigaki Island Sale to Start in Nationwide Convenience Stores and Mass Retailers on October 15
October 10, 2013
ITOCHU Corporation (headquartered in Minato-ku, Tokyo; Masahiro Okafuji, President & CEO; hereinafter "ITOCHU") announced today that euglena Co., Ltd. (headquartered in Bunkyo-ku, Tokyo; Mitsuru Izumo, President; hereinafter "euglena Co."), in cooperation with ITOCHU, will supply euglena (midorimushi in Japanese) grown on Japan's Ishigaki Island in yogurt products; the world's first such use of euglena. The sale of Euglena & Yogurt, the world first yogurt using this material (seller: Kyodo Milk Industry Co.,Ltd.), will commence on Tuesday, October 15 as described below.
Product Name
Euglena & Yogurt: Euglena, a gift produced on Ishigaki Island, in yogurt
Product Summary
| | |
| --- | --- |
| Product Name | Euglena & Yogurt |
| Price | 128 yen (incl. tax) |
| Contents | 100 g |
| Flavor | Muscat grape flavor, containing aloe |
| Characteristics | Euglena is a type of microalgae that contains 59 nutrients. It is added to an everyday product, yogurt, so people can easily try it for the first time. |
*Producer/seller: Kyodo Milk Industry Co.,Ltd.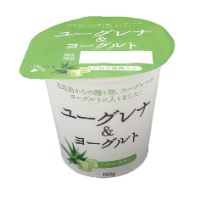 Release Date
Tuesday, October 15, 2013
Stores Where Product will be Sold
To be simultaneously released across Japan (except in Okinawa) in all Apita, Piago, Circle K Sunkus, and FamilyMart (except Okinawa) stores
About Euglena
Euglena (midorimushi in Japanese) has attracted attention as a rare type of algae. It photosynthesizes, like a plant, and also transforms its cells and moves, like an animal, and it contains 59 nutrients.
In 2005, euglena Co., in a world first, successfully cultured a large amount of euglena outdoors on Ishigaki Island. It now supplies euglena as a material for supplements and functional foods.
Euglena Characteristics
1. 59 nutrients
With properties of both an animal and a plant, euglena contains 59 nutrients.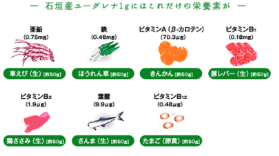 2. High digestion rate, activates lactic acid bacteria
Euglena can be efficiently digested and absorbed since it does not have cell walls that impede the nutrient absorption. Research also shows that it has greater ability to activate lactic acid bacteria than well-known oligosaccharide.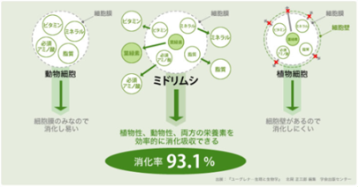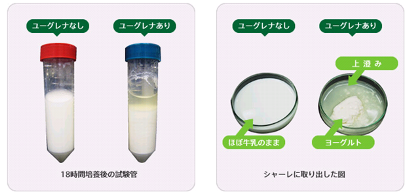 Samples Distributed Prior to Sale
In conjunction with the opening of the euglena Co. booth at the Jiyugaoka Megami Festival, held around Tokyo's Jiyugaoka Station on the Tokyu Oimachi and Toyoko lines, on October 13 and 14 , 2013, an event to distribute samples will be held before Euglena & Yogurt is released (starting at 2 p.m. on the 13th; limited quantities). Please feel free to visit.
---