Outlast Temperature Regulation Series Jointly Developed by AOKI and ITOCHU Goes on Sale
Use of Revolutionary Material OUTLAST that Regulates Temperature of Clothing for Optimal Comfort
October 30, 2013
Aoki, Inc./AOKI Company (headquartered in Yokohama-shi, Kanagawa; Akira Shimizu, President; hereinafter "AOKI") and ITOCHU Corporation (headquartered in Minato-ku, Tokyo; Masahiro Okafuji, President & CEO; hereinafter "ITOCHU") announced today that from November 1, 2013 (Fri) AOKI will gradually launch the Outlast Temperature Regulation series jointly developed with ITOCHU that employs OUTLAST® temperature adjusting material for which ITOCHU is the sole distributor in Japan.
The series will feature a range of men's suits, jackets, shirts, coats, underwear, and socks. This revolutionary series offers optimal comfort not only in the approaching cold season but all year round by maintaining a constant temperature inside clothing regardless of the outside temperature. (With the exception of certain products, the series will be available at limited stores.)
"Employs revolutionary fabric OUTLAST that ensures you are not too hot, not too cold, but 'just right' "
The Outlast Temperature Regulation series being launched employs OUTLAST® temperature adjusting material developed for NASA (National Aeronautics and Space Administration).
OUTLAST® was originally developed for astronauts working in an inhospitable environment as a fabric for gloves for space suits that would regulate the temperature for optimal comfort. Tiny micro-capsules of paraffin wax measuring 2-3 microns absorb excess heat from the body when it is hot, and release the heat that it has stored when it is cold, thereby regulating the temperature inside clothing in order to 32°C ± 1℃ for optimal thermal comfort.
ITOCHU commenced deployment of this fabric in Japan in 1999, and in January 2007 concluded an agreement with the U.S. corporation Outlast Technologies LLC granting it the exclusive import, manufacturing, and sales rights as well as the exclusive rights to use the trade mark in respect of all the raw materials used for the fabric including capsule fibres, cloth, and products. Recently, manufacture using filament polyester has become possible in addition to the use of conventional short cut acrylic, rayon, and polyester fibers, which means that this can now be applied to a wider range of items such as casual outerwear and innerwear, or sportswear.
This background and the needs of customers were behind the joint development of the Outlast Temperature Regulation series by AOKI and ITOCHU. Offering items that not only eliminate the discomfort caused by the difference in temperature between heated rooms and the cold outdoors but that can be worn year-round, the series is recommended for businessmen who often work outside the office as well as people who are not often required to wear a suit.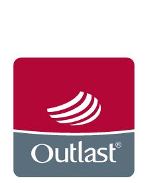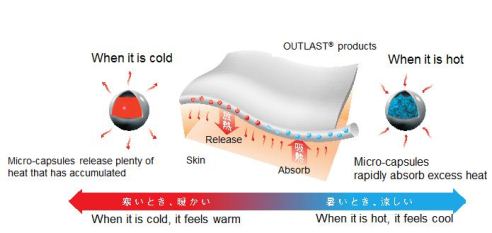 Overview of Outlast Temperature Regulation series jointly developed by AOKI and ITOCHU (1)
Outlast Temperature Regulation Suit
This will be deployed through the MAJI brand prepared by Paris Collection designer Masatomo for younger age bracket (100 stores only),
and through the JUNKO SHIMADA JS homme brand designed by Junko Shimada for middle to older age bracket (200 stores only).

| | |
| --- | --- |
| Material | 70% wool, 30% polyester |
| Color | Navy, black |
| Size | Y・A・AB cut  Sizes 4-7 in each cut |
| Design | Two-button two-piece |
| Price incl. consumption tax | 69,900 yen |
Outlast Temperature Regulation Jacket
This will be deployed through the Café Soho White Label brand which offers a casual business style for adults. (100 stores only)

| | |
| --- | --- |
| Material | 70% wool, 30% polyester |
| Color | Navy |
| Size | Y・A・AB cut  Sizes 4-7 in each cut |
| Design | Two-button |
| Price incl. consumption tax | 29,900 yen |
Outlast Herringbone Soutien Collar Coat
This will be deployed through JUNKO SHIMADA JS homme for the middle to older age bracket. (150 stores only)

| | |
| --- | --- |
| Material | 48% wool, 30% rayon, 22% polyester |
| Color | White, black |
| Size | S, M, L, LL |
| Design | Soutien collar |
| Price incl. consumption tax | 69,900 yen |
Overview of Outlast Temperature Regulation series jointly developed by AOKI and ITOCHU (2)
Outlast Temperature Regulation Shirt
Slim fit type MAJI brand, a brand popular with younger age bracket .
Shirt made from a distinctive cotton fabric with a beautiful sheen that conveys a sense of luxury. (200 stores only)

| | |
| --- | --- |
| Material | 70% cotton, 30% polyester |
| Color | White, black stripe |
| Size | S, M, L, LL |
| Design | Short wide collar |
| Price incl. consumption tax | 5,900 yen |
Outlast Temperature Regulation Underwear (deployed at all stores)
| | |
| --- | --- |
| Material | 65% cotton, 35% polyester |
| Color | White |
| Size | M, L, LL |
| Design | V-neck short-sleeve |
| Price incl. consumption tax | 1,500 yen |
Outlast Temperature Regulation Socks (deployed at all stores)  
| | |
| --- | --- |
| Material | Rayon, cotton, acrylic, nylon, etc. |
| Color | Black, navy, gray |
| Size | 25-27cm (one size) |
| Design | Crew length business socks |
| Price incl. consumption tax | 1,000 yen |
---