ITOCHU Announces Joint Venture with Taiwan's Largest Telecommunications Carrier Chunghwa Telecom
- Aiming to become the largest welfare service provider in Taiwan -
November 1, 2013
ITOCHU Corporation (headquartered in Minato-ku, Tokyo; Masahiro Okafuji, President & CEO; hereinafter "ITOCHU") announced today that it has reached an agreement with Benefit One Inc. (headquartered in Shibuya-ku, Tokyo; Norio Shiraishi, President; hereinafter "Benefit One") to establish a joint venture with Taiwan's largest telecommunication carrier Chunghwa Telecom Co. Ltd. (headquartered in Taipei, Taiwan (ROC); Yen-Sung Lee, Chairman & CEO; hereinafter "Chunghwa Telecom") via the joint venture Benefit One Asia Pte. Ltd. (hereinafter "Benefit One Asia") established previously by the two companies in Singapore. The new venture will be called ChungHwa Benefit One Co. Ltd. (hereinafter "ChungHwa Benefit One"), and is scheduled to be established and commence operations in January 2014.
ITOCHU and Benefit One established Benefit One Asia in Singapore in October 2013. Making the most of Benefit One's expertise in establishing and operating welfare services, and ITOCHU's overseas network and resources, the aim is to roll out welfare services throughout Asia.
In Taiwan, companies with 50 or more employees are required by law to set up a committee to provide welfare services for their employees. As a result, most companies operate a system whereby a certain percentage of their capital, operating revenue and employees' salaries are put aside to fund welfare services. Funds are then used for purposes such as employee recreation and food subsidies. The market for welfare and related services such as these is estimated to be worth ¥2.1 trillion (Towers Watson 2013 survey; includes social insurance, etc.).
Chunghwa Telecom provides mobile phone services (35% share of the domestic market), fixed line services (90%) and Internet connection services (80%). With approximately 10 million subscribers, it is the largest telecommunications carrier in Taiwan. Including its own employees, which number over 30,000, the company already provides welfare services to around 50,000 employees, on behalf of state-owned companies and other organizations.

Welfare and related services previously provided by Chunghwa Telecom will now be transferred to ChungHwa Benefit One, the new joint venture established by Benefit One Asia and Chunghwa Telecom. The new company will draw on Benefit One's expertise to expand and reinforce existing welfare and related services. As well as providing new services to subscribers using Chunghwa Telecom's telecommunication services, ChungHwa Benefit One will also be offering incentives via the same points-based reward scheme operated by Benefit One in other countries, in an effort to become the largest welfare service provider in Taiwan.

Outline of Business Model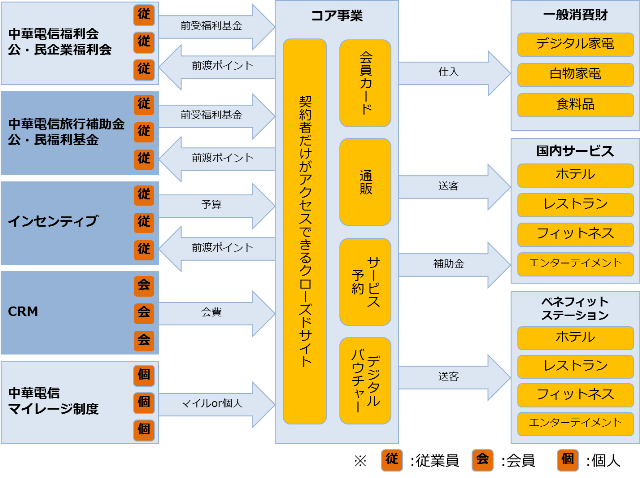 Key Services
(1)Welfare and related services
As part of its welfare services, Chunghwa Telecom used to offer group employees and member companies items such as digital home appliances and food products at special discounted prices via a dedicated site, with no membership fees.
ChungHwa Benefit One will be introducing a paid membership scheme whereby membership fees will be collected from individual members. In addition to selling products, as previously, it will also offer special discount prices on accommodation facilities, restaurants and leisure facilities in Taiwan, as well as nursing care and childcare services. If employees travel to Japan, they will also be able to access domestic services provided by Benefit One.

(2)Incentives
ChungHwa Benefit One will award points to high-achieving employees and employees making a real effort to better themselves. As part of this reward scheme, employees will then be able to exchange points for products of their choosing. It is proposing to start with 400 mobile phone stores operated by Chunghwa Telecom, before introducing the scheme to local and Japanese companies looking to reduce turnover and retain talented employees.
(3)Added value services for individual subscribers (CRM)
ChungHwa Benefit One is considering providing special discounted services, along the same lines as those provided to welfare service members, to the approximately 10 million users who subscribe to mobile phone, landline and Internet services provided by Chunghwa Telecom.
Profile of ChungHwa Benefit One Co. Ltd.
Name
ChungHwa Benefit One Co. Ltd.
Location
Taipei, Taiwan (ROC)
Established
January 2014
Capital
$100 million TWD (approx. ¥330 million)
Business activities

- Welfare and related services

- Added value services for individual subscribers (CRM)

- Incentives
Shareholders
Benefit One Asia Pte. Ltd. (50%), Chunghwa Telecom Co. Ltd. (50%)
---