ITOCHU has signed a waste management contract with Merseyside Waste Disposal Authority in the UK
December 24, 2013
ITOCHU Corporation (headquatered in Minato-ku, Tokyo; Masahiro Okafuji, President & CEO; hereinafter "ITOCHU"), together with SUEZ ENVIRONNEMENT subsidiary, SITA UK, and Sembcorp Industries subsidiary, Sembcorp Utilities UK has signed a 30-year resource recovery contract worth approximately GBP 1.6 billion (Approximately 256 billion yen) with the Merseyside Waste Disposal Authority (hereinafter "MWDA"). ITOCHU Corporation has a 20 per cent stake in the consortium.
ITOCHU has developed a total of 4 EfW projects in the UK, following participation in South Tyne & Wear Waste Management Partnership, a contract executed in April 2011, the Integrated Waste Management PFI Contract in Cornwall Council, a contract executed in March 2013 and the West London Residual Waste Services PFI Contract, a contract executed in November 2013. As a result, ITOCHU will be involved in about 20% of the annual waste volume treated by Energy-from-Waste facilities in the UK and contribute to reduce greenhouse gases and the amount of waste to be landfilled.
The contract is to manage 430,000 tonnes of residual household waste each year over 30 years. It includes the design, build, finance and operation of a rail loading waste transfer station and a new Energy-from-Waste plant, which will generate electricity for the equivalent of 63,000 households.
Residual waste (the waste left over once all of the recyclable material has been separated out) collected from five authorities constituting the MWDA (Liverpool, Knowsley, Sefton, St Helens, and Wirral) and the unitary authority of Halton Borough Council, which have a combined population of 1.5 million people, will be transported by rail to new Energy-from-Waste facility at Teesside in the northeastern UK, which uses Energy-from-Waste technology to convert the material into energy. By using this solution, the MRWA will be able to divert 92 per cent of it residual waste from landfill and will save 130,000 tonnes of CO2 per year.
ITOCHU will make full use of its experience in this field to strengthen its initiatives in Eastern Europe, the Middle East and Asia.

The total contract value is worth GBP1.6 billion from municipal revenue, treatment of third party waste and sale of electricity to National Grid
SUEZ ENVIRONNEMENT
SUEZ ENVIRONNEMENT is a world-leader in environmental services. The company, with 79,500 employees, supplies drinking water to 90 million people, and treats the waste produced by 46 million people from across the world.
| | |
| --- | --- |
| Company Name | Suez Environnement SA |
| Representative | Jean-Louis Chaussade |
| Head Office | Paris, France |
| Established | 1880 |
| Number of Employees | Approximately 79,500 |
| Turnover | Approximately 15.1 billion euro (about 2,037 billion yen) |
| URL | |
SITA UK
SITA UK, a UK subsidiary of SUEZ ENVIRONNEMENT, is a recycling and resource management company, with approximately 5,500 staff and a nation-wide network of recycling, composting, energy-from-waste and landfill facilities. The company delivers environmental solutions for the public, local government, industry and commerce, serving over 12 million people. It handles around eight million tonnes of domestic, commercial and industrial waste each year.
| | |
| --- | --- |
| Company Name | SITA UK Limited |
| Representative | David Palmer-Jones |
| Head Office | Maidenhead, the United Kingdom |
| Established | 1988 |
| Number of Employees | Approximately 5,500 |
| Turnover | Approximately 770 million pounds (about 123 billion yen) |
| URL | |
Sembcorp Industries
Sembcorp Industries is a leading energy, water and marine group operating across six continents worldwide. With facilities of over 5,900 megawatts of gross power capacity and over eight million cubic metres of water per day in operation and under development, Sembcorp is a trusted provider of essential energy and water solutions to both industrial and municipal customers. It is also a world leader in marine and offshore engineering as well as an established brand name in urban development.
| | |
| --- | --- |
| Company Name | Sembcorp Industries Limited |
| Representative | Tang Kin Fei |
| Head Office | 30 Hill Street #05-04, Singapore 179360 |
| Established | 1998 |
| Number of Employees | Approximately 9,000 |
| Turnover | Approximately 10.2 billion Singapore dollars (about 816 billion yen) |
| URL | |
An artist's illustration of the new Energy-from-Waste facility at Teesside upon completion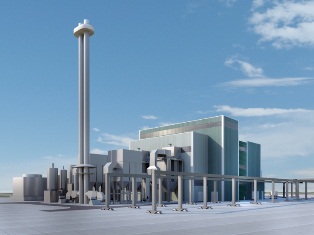 ---