President's New Year message for 2014
January 6, 2014
Thanks to a favorable calendar, Japan enjoyed a longer-than-usual year-end/New Year holiday. I'm sure that you are all feeling refreshed both in mind and body, and are ready to begin the new year today with a renewed mindset and a fresh outlook.
As we start the new year, I would like to share a few words of greeting with members of the ITOCHU Group around the world.
Last year, the yen-U.S. dollar exchange rate weakened by approximately 20 yen, from 86 yen at the beginning of the year, and the Nikkei Stock Average increased by nearly 60%, from 10,395 yen to 16,291 yen. This reflected the effect of the Japanese government's so-called "Abenomics" policies, particularly the "first arrow" of monetary easing and the "second arrow" of fiscal stimulus measures. Earnings have increased dramatically at many companies. And although the Abenomics policies have yet to translate into higher income levels, rising asset prices have created a "wealth effect." Helped by these factors, I believe that Japan as a whole has begun to regain a more positive outlook. In the past year, Japan seemed to have overcome deflation, which had persisted as long as 15 years, and finally started to experience a tangible economic recovery.
This year, Japan's consumption tax will increase in April. For ITOCHU, which has strength in the consumer-related sector, the environment is expected to be challenging. Undaunted, we must show determination to make ITOCHU a driving force behind Japan's economy. With this high ambition, I want us to demonstrate our potential to the fullest.
Every Division Company has been rapidly gaining strength in recent years, despite some differences in industry position. We have steadily strengthened the capabilities of our organization, and the capabilities of its individual members. In 2014, I want all of you to increase this momentum further. I want each Division Company and individual to exert their strengths in their respective area, and to compete fiercely, in order to advance to an even higher level.
2014 is the Year of the Horse in the Oriental Zodiac. Horses have a 350-degree field of vision. I want you to constantly see things from such an expansive perspective and remain closely attuned to developments and trends in society. You must strive to act with agility and speed to ensure that no opportunity will ever slip through your fingers.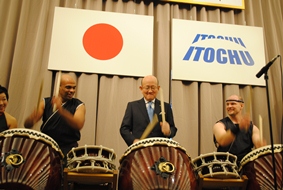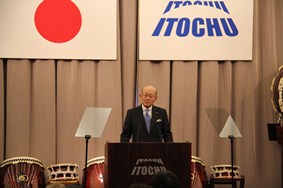 ---