ITOCHU Announces Contract with Tsuyoshi Shinjo as Spokesmodel for HEAD Brand
January 22, 2014
ITOCHU Corporation (headquartered in Minato-ku, Tokyo; Masahiro Okafuji, President & CEO; hereinafter "ITOCHU") announced today that it has entered into a contract with former professional baseball player and former Major League player Tsuyoshi Shinjo to serve as spokesmodel for the Austrian sports brand HEAD. ITOCHU owns the exclusive manufacturing and sales rights for the HEAD brand's apparel and accessory tie-in merchandise in Japan.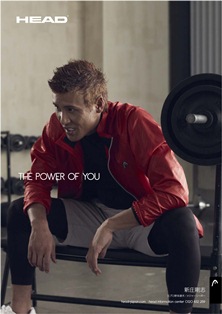 Tsuyoshi Shinjo will be forever remembered by many for his international career. After playing for the Hanshin Tigers, his achievements included being the first Japanese free agent outfielder to play for the American Major League, the first Japanese player to be fourth batter in a major league team, the first Japanese player to achieve a grand slam, and the first Japanese player to play in the World Series. After returning to Japanese baseball, Shinjo continued to be a constant topic of interest through his numerous games, performances, and comments, including leading the Hokkaido Nippon Ham Fighters to their first victory in 44 years, and has acquired a following of enthusiastic fans for his exploits as an entertainer.
ITOCHU has been licensing apparel and accessory tie-in merchandise for the HEAD brand in Japan since 2005. By employing as its spokesmodel the charismatic world athlete and entertainer Tsuyoshi Shinjo, the company seeks to achieve further differentiation from its competitors in the Japanese market. In addition, with the sports boom expected to intensify in the lead-up to the Tokyo Olympics to be held in 2020, ITOCHU will develop the brand further to target the sports fan consumer segment.
HEAD started out in 1950 as a ski brand, later expanding its business to include areas such as snowboarding and racquet sports. The high performance and design qualities of its products attracted a strong following, including many top athletes, and today it enjoys a reputation as a leading global sports brand. This latest contract aims to further extend its brand following through more assertive promotion of HEAD's worldview to a wider consumer segment in Japan.
---