ITOCHU to Participate in PPP New Generation Rollingstock Project in Queensland, Australia
January 29, 2014
On January 15, 2014, the NGR Consortium which includes ITOCHU achieve Financial Close upon concluding a project agreement with the Queensland Government for the "New Generation Rollingstock Project". The Project will be delivered as a Public Private Partnership (PPP)*1 whereby the Consortium will deliver 75 new six-car trains and will be responsible for the maintenance of the trains for a period of around 30 years .
The other members of the Consortium are Bombardier Transportation Australia, John Laing and Uberior. The project scope includes the delivery of the 75 new six-car trains, the maintenance of the trains as well as the construction and maintenance of a new maintenance center (depot). The Consortium is expected to deliver its first train by end of 2015, complete the delivery of all trains by the end 2018 and provide maintenance services until 2046.
ITOCHU Corporation will participate as 25% equity shareholder and provide directors to the NGR project companies. In addition, Bombardier Transportation Australia and ITOCHU Corporation through its subsidiary have formed a consortium to perform the design and construction services during the Delivery Phase pursuant to the Design & Delivery (D&D) Contract. Four Japanese banks - Mizuho Bank, Shinsei Bank and Sumitomo Mitsui Trust Bank, Aozora Bank will be a part of an international banking group who will provide project finance for the project.
Background of the New Generation Rollingstock Project and the NGR Consortium
The State of Queensland, the third largest state in Australia whose current population is 4.7 million people, expects a population growth of 2.3 million over the next 18 years. The New Generation Rollingstock Project will provide increased passenger capacity with the cutting edge six-car trains, while simultaneously providing superior performance, reliability and cost-effective services for passengers. The Project is the largest order of new trains and will be an integral part of its vision to deliver better infrastructure to the people of Queensland.
For ITOCHU, the Project is the second PPP project following the successful Aquasure desalination project in Victoria in 2009. ITOCHU is currently placing a strategic emphasis on PPP projects and its participation in PPP projects is deemed to increase in regions where the demand for the implementation and enhancement of infrastructure through the PPP framework is expected to intensify such as Australia, Europe and North America,
•(Note 1*) Public Private Partnership (PPP) is a partnership between the public (government) and private sectors for the purpose of more effectively delivering government projects (e.g. infrastructure projects) or government services.
Images of the rolling stock to be delivered.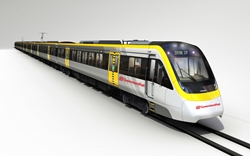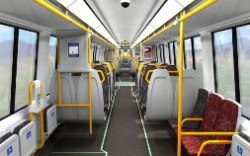 ---