Azeri-Chirag-Gunashli Oil Fields start additional production in the Caspian Sea, Azerbaijan (Chirag Oil Project)
January 30, 2014
ITOCHU Corporation is pleased to announce that its subsidiary, ITOCHU Oil Exploration (Azerbaijan) Inc., has commenced additional oil production from both the existing Chirag oil field and the deepwater portion of the Gunashli oil field including those shallow parts on 28 January this year, in addition to the current oil production from the Azeri-Chirag-Gunashli (ACG) Oil Fields. The additional oil development is called the Chirag Oil Project (COP), which had started in 2010.
The ACG Oil Fields are located approximately 100km east of Baku, Azerbaijan in the Caspian Sea, currently producing oil at the rate of approximately 600,000 barrels per day. The COP is a US$6billion further development plan for the ACG Oil Fields. Operations for additional oil production from the COP will be conducted using the pre-drilled wells and a newly installed production platform which the design oil capacity is 183,000 barrels per day.
The oil produced from the COP will, together with the oil currently produced from the ACG Oil Fields, be delivered to the Sangachal Terminal, near Baku, and then transported through the BTC Pipeline, in which ITOCHU participates, to Ceyhan on Turkey's Mediterranean coast via Tbilisi, Georgia, for export.
ITOCHU acquired a 3.9205% interest in the field in 1996 and was the first Japanese corporation to establish an office in Azerbaijan. In 2010 ITOCHU agreed to acquire an additional interest and increased participating interest to 4.2986%. INPEX CORPORATION, another Japanese corporation, is also participating in the project.

Additional Information
Summary of participation and partners
ITOCHU Oil Exploration (Azerbaijan) Inc. has a 4.3% participating interest in the field. In addition to ITOCHU Oil Exploration (Azerbaijan) Inc., other companies with participating interest in the field are: BP(operator with -35.8%), State Oil Company of Azerbaijan Republic(SOCAR, 11.6%),Chevron (11.3%), INPEX CORPORATION (11.0%), Statoil (8.6%), Exxon Mobil(8.0%), TPAO(6.8%), and ONGC Videsh Limited (2.7%).
BTC pipeline
This crude oil pipeline stretches 1,768km in length from Baku in Azerbaijan to Ceyhan, Turkey on the coast of the Mediterranean Sea by way of Tbillisi, Georgia and can handle 1.2 million barrels of oil per day. ITOCHU, through its subsidiary ITOCHU Oil Exploration (BTC) Inc., has a 3.4% invested share in BTC Co., the company that builds and operates the pipeline, for the purpose of ensuring a route to carry the crude oil produced at ACG field in Azerbaijan.
Production Facility of the Chirag Oil Project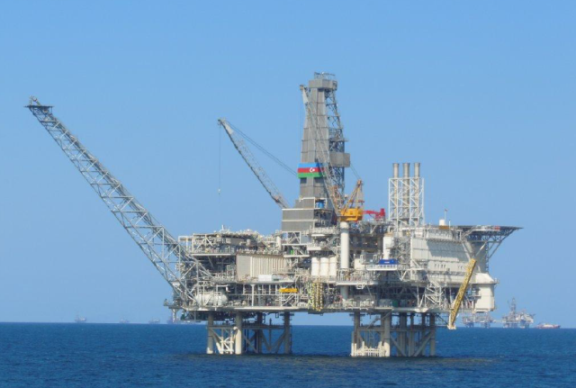 ---