ITOCHU Announces Comprehensive Collaboration with Kaizen Discovery in Mineral Resources Exploration and Development Projects
February 3, 2014
ITOCHU Corporation (headquartered in Minato-ku, Tokyo; Masahiro Okafuji, President & CEO; hereinafter "ITOCHU") announced today that it has concluded a framework agreement concerning the exploration and development of mineral resources with Kaizen Discovery Inc. (hereinafter Kaizen Inc.). ITOCHU has also agreed to acquire approximately 6.35% shares of Kaizen for 5.1 million Canadian dollars.
Kaizen Inc. was established as a group company of I-Pulse Inc. (which is a group company of Ivanhoe Capital Corporation,), and has been involved in exploration and development projects of mineral resources around the world, including the Fairholme copper and gold project in Australia. With this framework agreement, ITOCHU and Kaizen Inc. have agreed to cooperate mutually in the existing business and new business owned by Kaizen Inc. The two companies will jointly promote the exploration and development of projects that they both agree, mainly targeting base metals and minor metals.
Kaizen Inc. has the right of use of advanced geophysical exploration technologies owned by its parent company, HPX TechCo Inc. This technology is capable of efficient geophysical exploration in regions where metallic ore deposits are buried so deep in the ground that they cannot be reached and in regions that are difficult to explore with conventional technology.
ITOCHU has been promoting the exploration and development of PGMs and Nickel of the Platreef Project in South Africa in collaboration with Ivanhoe Mines Ltd., also an Ivanhoe Capital Corporation group company, since September 2010. ITOCHU will be committed to enhancing collaboration with Ivanhoe Capital Corporation in other fields based on this comprehensive collaboration, aiming for the further expansion of resource interests and profits.

About Kaizen Inc.
Kaizen Inc. is a company involved in the exploration and development of mineral resources around the world and listed on the TSX Venture Exchange.
| | |
| --- | --- |
| Company name | Kaizen Discovery Inc. |
| Representative | B. Matthew Hornor |
| Headquarters | Vancouver, British Columbia, Canada |
| Listing | Listed on the TSX Venture Exchange (TSXV-KZD) |
| Establishment | December 2013 |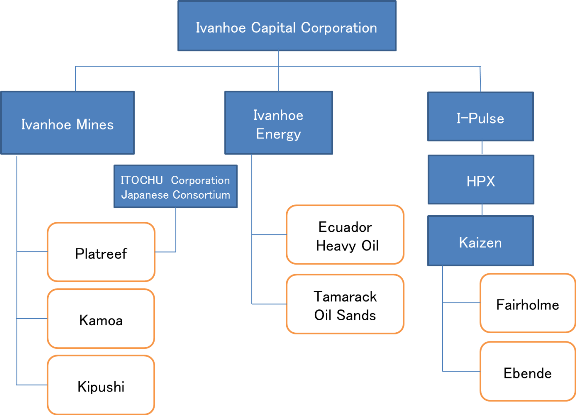 ---