ITOCHU Announces Conclusion of Image Character Agreement for U.S Brand Ocean Pacific
February 25, 2014
ITOCHU Corporation (headquartered in Minato-ku, Tokyo; Masahiro Okafuji, President & CEO; hereinafter "ITOCHU") announced today that it has concluded an agreement with model and talent Anne Nakamura to feature her as the image character for Ocean Pacific, a U.S. sports brand for which ITOCHU holds trademark rights.
Founded in 1972 in California, the Ocean Pacific brand became popular particularly on the U.S. West Coast as a surf-wear brand for serious surfers through the sponsorship of many professional surf contests and sponsorship support for many pro surfers. The brand later combined the surfing lifestyle with sport, music, art and fashion to express a worldview encapsulated in the words "CHEERFUL," "FREEDOM" and STYLISH," and has now evolved into a comprehensive lifestyle brand encompassing beachwear and street wear that enjoys broad support, especially among active, fashion-conscious young people.
ITOCHU acquired trademark rights for the Ocean Pacific brand in Japan and certain countries and regions in Asia in 2012. Especially in the Japanese market, in addition to the brand's traditional primary customer group of sporty men and women in their thirties and forties who lived through the golden age of surfing with the Ocean Pacific brand, women in their twenties who are both "COOL" and "CUTE" are considered to be an important target group in the future. ITOCHU decided to conclude this agreement because Anne Nakamura is very popular among men and women in their twenties, appears on TV shows, in TV commercials, magazines and other media as both stylish and active, and matches the brand image Ocean Pacific aims to project. ITOCHU plans to use Anne Nakamura to further emphasize the positioning of Ocean Pacific as a sporty stylish lifestyle brand originating in the U.S. West Coast that combines "COOL" - as a surf-wear brand for serious surfers - with "CUTE" and is also loved by fashion-conscious women.
The 2014 Spring/Summer ad campaign featuring Anne Nakamura will be launched in mid-March in collaboration with the primary sub-licensee Nikki Co., Ltd. (headquartered in Chuo-ku, Osaka; Keisuke Niki, President; hereinafter "Nikki"). ITOCHU will strongly promote the worldview of the Ocean Pacific brand in various media such as POS advertising, magazines and websites, and focus on further expanding brand recognition and enhancing brand value. In the future, ITOCHU intends to further expand business in the Japanese market, focusing on women in their twenties, and also plans to work on expanding the number of retailers handling the Ocean Pacific brand in Asia by leveraging its global network.

Profile of Anne Nakamura
D.O.B.
September 17, 1987
Birthplace
Tokyo
Height
163cm
Blood type
AB
Career history

Was a member of the cheerleading team at school and university and took part in national cheerleading competitions as team captain.

Appears as a regular model in the women's fashion magazine andGIRL

Also active in a wide range of other media including numerous variety shows, TV commercials, dramas and magazines.

[Official website]http://talent.platinumproduction.jp/nakamuraanne

[Official blog]http://ameblo.jp/nakamura-anne/

[Regular programs]Uwasa no genba chokkou dokyumen gan mi! on TBS

Shumatsu Metropolitan on TOKTO MX
Ad visual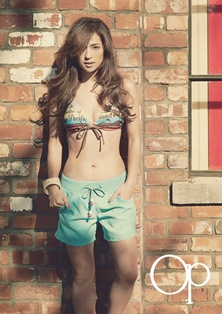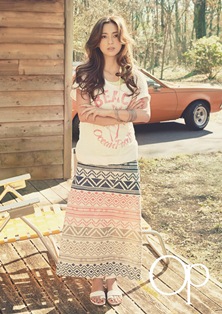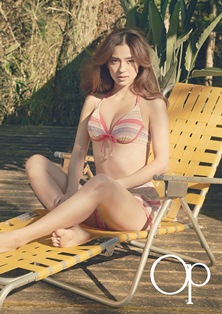 ---