ITOCHU Acquires Exclusive Rights to Import and Sell Belgium-Based Lotus' Products
March 3, 2014
ITOCHU Corporation (headquartered in Minato-ku, Tokyo; Masahiro Okafuji, President & CEO; hereinafter "ITOCHU") announced today that it has reached an agreement concerning exclusive import and sales with Belgium-based Lotus Bakeries (headquartered in Lembeke, CEO: Jan Boone; hereinafter "Lotus"), with sales of Lotus-branded products to commence in May 2014.
Established in 1932 in the town of Lembeke in Belgium, a country known as the kingdom of confectionery, Lotus is one of Europe's leading confectionery makers with a history spanning more than eighty years. Lotus' flagship product is its Original Caramelized Biscuits. By carefully wrapping each biscuit individually, the deep caramel flavor and cinnamon aroma keeps for an extended period. Original Caramelized Biscuits are supplied to famous hotels around the world and in passenger aircraft cabins as biscuits that go well with coffee or tea.
Lotus' biscuits are recognized the world over for their simple, fragrant flavor and crunchy texture, and over 600 million of the biscuits are consumed annually across more than twenty countries. Lotus' caramelized biscuits have built a strong position in European markets and have also enjoyed popularity in the Japanese market, primarily sold through imported food supermarkets and coffee shops.
 
Moving forward, ITOCHU will work with Lotus to propose product development tailored to the Japanese market, engage in active efforts to promote efforts and work to further expand sales of Lotus products.

Flagship Product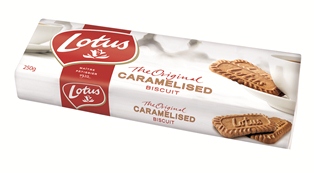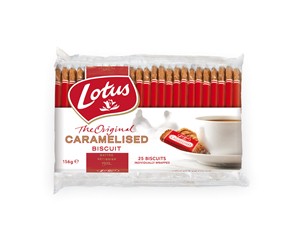 ---