New Expansion of the US-based JOE'S Brand
June 30, 2014
ITOCHU Corporation (headquartered in Minato-ku, Tokyo; Masahiro Okafuji, President & CEO; hereinafter "ITOCHU") and Toray Diplomode, Inc. (headquartered in Minato-ku, Tokyo, President: Toru Chiba, hereinafter "Toray Diplomode") announced today that they will begin the full-scale expansion of US West Coast-based contemporary casual brand JOE'S with the launch of a ladies' collection starting spring/summer 2015.
JOE'S began in Los Angeles on the United States' West Coast in 2001 as a premium denim brand. In search of a silhouette of denim pants that would satisfy people of all body types, designer Joe Dahan finally created a pattern after performing fittings on a thousand people as he worked to attain the perfect fit and sense of satisfaction. Thanks to that comfortable fit, JOE'S Jeans has survived amid fierce competition in the premium denim market and established a secure position. In 2007 the brand expanded to items such as outerwear and tops and began a new phase of growth as a comprehensive clothing brand. Today JOE'S has expanded to 33 directly-run stores in the US, including flagship stores in Melrose, Los Angeles and SoHo, New York, and is continuing with strategic store openings with the aim of having 100 stores by the end of 2015.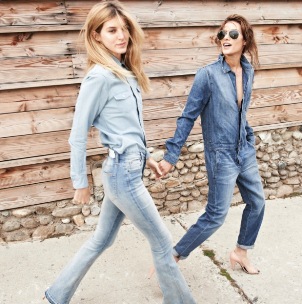 ITOCHU has acquired the exclusive import and sales rights to the JOE'S brand since 2003 to develop JOE's in the Japanese market. In this latest development, with Toray Diplomode acting as a new distributor, ITOCHU has decided to newly expand the lineup to include items such as outerwear and tops in addition to its previous focus on denim bottoms, expanding to a comprehensive clothing lineup with a ladies' collection. With prices ranging from 23,000 yen to 39,000 yen for the main denim pants items and 13,000 yen to 49,000 yen for tops and dresses, JOE'S will be available at affordable prices as a contemporary casual brand. The brand is geared towards customers in their 20s to 40s and expects to mainly target those in their early 30s to early 40s.
Sales channels will focus on discerning specialty stores and department stores with an aim of 500 million yen in first-year sales based on retail prices.
The spring 2015 range will be exhibited over a three-day period from Tuesday, July 22 to Thursday, July 24 at Toray Diplomode's headquarters in Nishi-Azabu, Tokyo. With the introduction of this brand, Toray Diplomode will add to its new portfolio and continue to promote the further expansion of its imported brand business.
Details on exhibitions in Osaka and Fukuoka are as follows.
Exhibition Venue
2015 Spring Range

Tokyo

at Toray Diplomode Tokyo Headquarters
Tuesday, July 22 to Thursday, July 24

Osaka

at Toray Diplomode Osaka Branch Office
Tuesday, July 29 to Thursday July 31

Fukuoka

at Toray Diplomode Fukuoka Branch Office
Tuesday, August 5 to Thursday, August 7
Price Ranges by Item
Denim Pants    23,000 - 39,000 yen
Denim Dresses  29,000 - 39,000 yen
Denim Jackets  29,000 – 49,000 yen
Knits          28,000 - 46,000 yen
Dresses       24,000 - 49,000 yen
Jackets        19,000 - 59,000 yen
Tops         13,000 - 33,000 yen
Profile of Toray Diplomode
Company Name
Toray Diplomode, Inc.
President
Toru Chiba
Location of head office
No. 28 Mori Bldg., 4-16-13, Nishi-Azabu, Minato-ku, Tokyo
Established
August 23, 2007
Paid-in Capital
490 million yen (wholly owned by Toray Industries, Inc.)
No. of Employees
180
Business Activities

(1)Import, manufacture and sale of women's clothing and

clothing accessories

(2) Manufacture and sale of swimwear

(3) Overseas tie-up-based brand licensing business
---