ITOCHU Announces Launch of U.S. Brand Penfield's "Black Label"
July 2, 2014
ITOCHU Corporation (headquartered in Minato-ku, Tokyo; Masahiro Okafuji, President & CEO; hereinafter "ITOCHU") announced today that it will release the new high-end line "Black Label" from the 2014 fall/winter season in addition to the existing main line "Blue Label," in the run up to the 40th anniversary of the founding of the U.S. outdoor fashion apparel brand Penfield, for which it holds trademark rights in Japan and four other regions of Asia.
Founded in 1975 in Boston with the aim of pursuing excellence in both fashion and function, the Penfield brand has established a strong position as the outdoor fashion brand by maintaining outstanding functionality in outdoor garments and developing products with a sophisticated sense of style, gaining a following from celebrities in the United States and around the world. Since acquiring trademark rights in October 2012, ITOCHU has gradually been introducing the products in Japan and other Asian regions.
The soon-to-be-released "Black Label" is the Penfield brand's high-end line that communicates in a contemporary style the worldview of the brand that has been established over the past 40 years under prominent European designers with expertise in outdoor apparel and street fashion. ITOCHU aims to further enhance the value of the Penfield brand and expand brand recognition by conducting a proactive 40th anniversary promotional campaign in Japan and other Asian regions.
In Japan, as well as concluding the distributorship agreement for "Black Label" in Japan with Imoto Co., Ltd. and expanding the development of the brand using the main sales channel of specialty stores, ITOCHU will also accelerate and diversify development to enhance the value of the brand, for example by creating styles in collaboration with leading brands such as Hunting World, Dickies, and X-LARGE, and releasing limited edition styles with highly topical retailers such as Ron Herman.   
In Asia's largest outdoor apparel market of South Korea, ITOCHU opened a mono brand store for the Penfield brand through AIOLI CO., LTD. Further, ITOCHU will promote even more strongly the value of the Penfield brand by adding "Black Label" to the existing "Blue Label." Specifically, initiatives are planned to expand recognition, such as securing multi-media coverage using show-business celebrities in TV, magazines, SNS, and other medial channels, and transmitting messages from famous bloggers, with a view to expanding the business to 15 stores including pop-up shops by the end of 2014.
In addition, ITOCHU will accelerate expansion throughout Japan and the four other regions of Asia where the company holds trading rights, aiming to achieve retail sales of 10 billion yen in five years' time.

Exhibitions planned
"Black Label" products will be exhibited at the general apparel exhibition hosted by ITOCHU.
Exhibition schedule: Tuesday, July 8–Thursday, July 10, 2014 ITOCHU Corporation Tokyo Head Office, 1st floor foyer
Penfield "Black Label" brand logo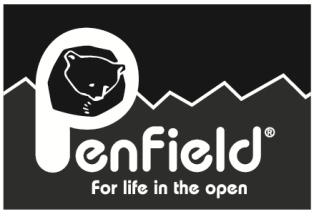 Penfield 2014 spring-summer image visuals

---