Notice of Conclusion of a Strategic Alliance with Charoen Pokphand Group
July 24, 2014
Today, subsequent to the approval of the board of directors dated July 24, 2014, ITOCHU Corporation (Headquarters: Minato-ku, Tokyo, President: Masahiro Okafuji, "ITOCHU") has agreed and executed a Strategic Alliance Agreement ("Alliance Agreement") with one of Asia's leading Agriculture-based conglomerate company Charoen Pokphand Group Company Limited, (Headquarters : Bangkok, Thailand, Chairman:Dhanin Chearavanont, "CPG") with the aim of deepening mutual cooperation and maximizing corporate value with their corporate group ("CP Group").
The content of the Alliance Agreement are as per below:
1. Joint development of opportunities for business expansion in the non-resource sector, including but not limited to food, chemicals, information communication technology("ICT"), finance and other areas, mainly in Asian regions; and
2. Promotion of joint initiatives in the areas of feed, livestock and marine product related business, mainly in Asian regions such as Thailand, China and Vietnam, as well as the establishment of systems for supplying raw materials to those regions.
CP Group is one of Thailand's largest integrated conglomerates, and as a group they are engaged in non-resource business with agribusiness, livestock and food as its core business, as well as other areas such as ICT, logistics, finance and pharmaceuticals. Their group operates globally, with exceptional strength in Thailand and China.
The Alliance Agreement will combine ITOCHU's strengths as one of the top class trading houses in the non-resource business, and CP Group's strong network and wide recognition to further expand and strengthen its foothold in the non-resource sector in Asia, and elsewhere.
In addition, we have agreed to the below capital participation for the purpose of maximizing the effect of the business alliance.
ITOCHU and CP Group will bring together the sourcing, sales, and information capabilities of each group to realize the synergistic benefits as in increase of sales, improvement of product competitiveness, and development of new markets in the Asian region.
The content of the capital participation are as follows;
1.ITOCHU's investment of 25%(voting shares) in C.P. Pokphand Co. Ltd. ("CPP"), a subsidiary of Charoen Pokphand Foods Public Company Limited ("CPF"). CPP is engaged in feed, livestock and aqua product related business in China and Vietnam. The consideration for the investment is expected to be approximately 87 billion yen.
2.Allotment of a total of approximately 4.9%(before third party allotment of shares) of ITOCHU shares to a wholly owned subsidiary of CPG, and a joint venture between a wholly owned subsidiary of CPG and the Development Bank of Japan("DBJ").
We have also passed resolution today regarding a buy-back of our shares, up to a maximum of 78 million shares or 110 billion yen, to potentially absorb the impact of dilution of shares by this third party allotment if any, or for other reasons.
ITOCHU will expedite its overseas expansion in the non-resource business, especially in the Asian region by the realization of this strategic alliance with CP Group.

Figure of the Strategic Alliance and Capital Participation
(Capital relationships are simplified for illustration purposes)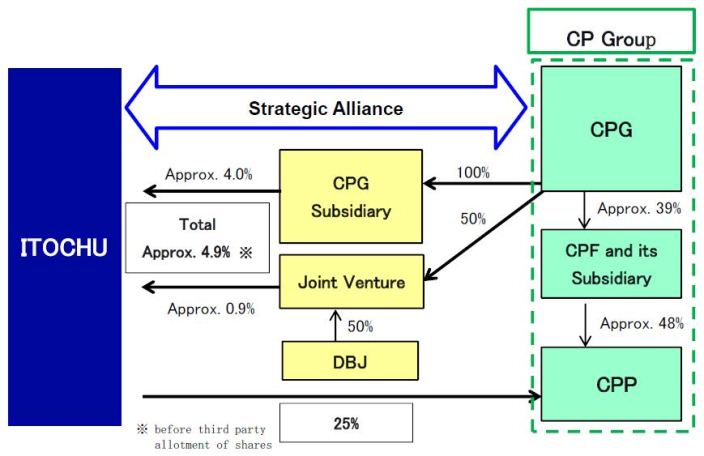 CPG
Company name
Charoen Pokphand Group Company Limited
Headquarters
Bangkok, Thailand
Representative
Dhanin Chearavanont (Chairman)
Principal Business

group holding company of agriculture,

food and finance related business

Capital
17.6 billion Thai Bahts (Approximately 55 billion yen)
Incorporation
1976
URL
CPP
Company name
C.P. Pokphand Co. Ltd.
Registered Address
Bermuda
Representative

Thanakorn Seriburi (CEO), Shanlin Bai (CEO),

Sooksunt Jiumjaiswanglerg (CEO)

Listing
listed on the Hong Kong Stock Exchange
Principal Business
feed, livestock and aqua product related and processed food business
Capital
USD 251 million (approx. 25.5 billion yen)
Incorporation
1987
Consolidated Sales
USD 5,414 million (approx. 549.5 billion yen, as of Dec 2013)
Net profit
USD 186 million (approx. 18.9 billion yen, as of Dec 2013)
URL
CPF
| | |
| --- | --- |
| Company Name | Charoen Pokphand Foods Public Company Limited |
| Registered Address | Bangkok, Thailand |
| Representative | Adirek Sripratak (President and CEO) |
| Listing | listed on the Stock Exchange of Thailand |
| Principal Business | feed, livestock and aqua product related and processed food business |
| Capital | 7.7 billion Thai Bahts (approx. 24 billion yen) |
| Incorporation | 1978 |
| URL | |
---