ITOCHU Begins Sales of Skype Prepaid Cards at Convenience Stores Nationwide in a First for Japan
August 4, 2014
ITOCHU Corporation (headquartered in Minato-ku, Tokyo; Masahiro Okafuji, President & CEO; hereinafter "ITOCHU") announced today that it will start selling prepaid cards that can be used as a payment method for Skype (*1) services. The cards will be released progressively starting August 4 at convenience stores equipped with the POSA technology (*2) from InComm Japan Co., Ltd. (headquartered in Shinjuku-ku, Tokyo; Takuma Arai, Representative Director).
In Japan, ITOCHU has been selling Skype Credit, a prepaid form of e-money that allows the use of the paid features of Skype services, at the multimedia kiosks (*3) of major convenience stores and over the Internet since October 2008. With this latest launch of Skype credit in the form of prepaid cards, users will be able to enjoy the paid features of Skype with greater ease.
In 2013 the domestic server-managed prepaid card market was worth 874.1 billion yen, and is forecast to grow to around 2.1 trillion yen by 2017. Having seized on these business opportunities in a timely fashion, ITOCHU will continue to plan and implement a range of initiatives to contribute to the further expansion of Skype services and improved convenience for Skype users.

Types of Skype Prepaid Card Available for Purchase at Convenience Stores
1,000 yen / 3,000 yen / Unlimited Overseas Calls Plan (1,100 yen)
Some convenience stores may not carry all types of card.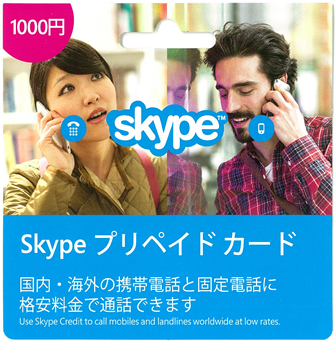 About InComm Japan Co., Ltd.
InComm provides technology related to gift cards and prepaid cards and has developed a distribution and sales network spanning some 400,000 locations, primarily throughout North America. In 2013 InComm distributed or sold prepaid cards and gift cards worth approximately 2.8 trillion yen worldwide. InComm's latest POSA technology (Point of Sales Activation, a registered trademark of InComm) significantly improves the way prepaid products are sold and drastically simplifies the purchase process for consumers to buy products, bringing about a revolution in retail markets. InComm is headquartered in Atlanta, USA and maintains offices in 30 countries including Japan, Canada, England and South Korea.
(*1) Skype
Skype is a software product that allows people around the world to talk with one another over the Internet. In addition to free calls between Skype clients, Skype prepaid cards and Skype Credit can be used to take advantage of paid features such as low-priced calls to landlines and mobile phones in Japan and around the world, as well as voicemail and call forwarding features.
(*2) POSA Technology
This technology enables a product or service at the moment payment has been finalized at a point-of-sale register. Usually, prepaid cards place much of the burden on the sales outlet, including purchasing and inventory risks and the burden of managing cash vouchers. However, sales outlets equipped with POSA technology provided by InComm Japan no longer bear the risks associated with distribution such as theft, loss, purchase, inventory and returns.
(*3) Multimedia Kiosk
A touch panel-operated information terminal installed in shops such as convenience stores.
---