ITOCHU Announces Service to Match People Concerned About Their Health to Companies That Support Health Promotion
Release of "Ticket+Wellness" personalized healthcare service based on health checkup results
August 28, 2014
ITOCHU Corporation (headquartered in Minato-ku, Tokyo; Masahiro Okafuji, President & CEO; hereinafter "ITOCHU") announced today that its wholly owned subsidiary Wellness Communications Corporation (headquartered in Minato-ku, Tokyo; Hayami Shimizu, President & CEO; hereinafter "Wellness") will release Check+Wellness, a cloud health management service that enables users to view their health checkup results on a PC or smartphone, in April 2014. A new service utilizing the same platform, Ticket+Wellness, will also be released from this month.
Wellness provides health management and health support services for company and health insurance society employees and their families. As well as acting as an agent for annual health checkup reservations by companies and health insurance society and for accounts settlement services, Wellness provides a service to summarize and support the integrated management of health checkup results data from allied healthcare facilities numbering more than 2,000 nationwide. From April this year, Wellness has started to provide the Check+Wellness service, which digitizes health checkup results and makes them available for viewing. As of June 30, applications to use the service have been received from approximately 45 companies and health insurance societies.
Moreover, Wellness will also launch a new service related to Check+Wellness. Ticket+Wellness selects and displays content according to information (attributes such as member organization, age, and sex) and health checkup results of the user who holds it. This enables the effective provision of information and discount coupons recommending trial offers and purchases, based on attribute information, health checkup results, and so forth, on events and suggested products relating to health, beauty, sports, and so forth, customized for each user. The provision of personalized information during the period before and after the health checkup, when health awareness is raised, is an exceedingly new initiative in the industry, and companies that support health promotion such as AMER SPORTS JAPAN, INC., CLUB BUSINESS JAPAN, INC., and RECRUIT LIFESTYLE CO., LTD. have already declared that they will participate.
Further, this service facilitates the introduction by companies and health insurance societies of Data Health Plan*, which is a new scheme to "extend healthy life expectancy", one of the themes examined in the Japan Revitalization Strategy approved by the government last year.
In the future, it is aimed to obtain a total of 1 million users in 300 companies and health insurance societies by March 31, 2016 by effectively utilizing ITOCHU's network to expand the service. Further, at the same time we will form tie-ups with many companies that support health promotion in order to support even more users to live healthier lives.

Data Health Plan
Formulates and implements measures and policies (Data Health Plan) that lead to the promotion of good health, disease prevention, preventing increase in severity of disease, and so forth, of health insurance society members, utilizing the receipts (statements of medical expenses), information on specific medical checkups, specific health guidance, and so forth, held by the health insurance society.
Service Scheme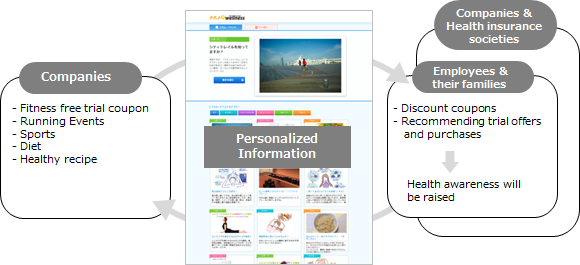 About Wellness
Trade Name
Wellness Communications Corporation
Head Office
Mita Kokusai Bldg, 1-4-28 Mita, Minato-ku, Tokyo
Website
Established
July 2006
Representative
Hayami Shimizu, President & CEO
Shareholder
ITOCHU Corporation
Main Business

(1)Network for health checkups (agency for integration of data on health checkup consultations, reservations, accounts settlement, and results for companies, health insurance societies, etc.)

(2)Internet health management systems (Health Support System ASP business that enables integrated management of health checkup results, work attendance data, and mental health care-related data)

(3)Dissemination of information relating to wellness (editing/distributing information publications on supporting the promotion of good health, operating the health information site "+Wellness", etc.)
---