ITOCHU Announces the Sequel to BIMA Satria Garuda, Indonesia's Original Tokusatsu Drama Series, Will Be on Air Starting from September 7!
September 4, 2014
ITOCHU Corporation (headquartered in Minato-ku, Tokyo; Masahiro Okafuji, President & CEO; hereinafter, "ITOCHU") announced today that Satria Garuda BIMA-X (hereinafter, BIMA-X) will be on air starting from September 7. "BIMA-X" is the sequel to BIMA Satria Garuda (or BIMA the Garuda Warrior, hereinafter, BIMA), which was the Indonesia's first original tokusatsu drama series coproduced by PT. Media Nusantara Citra Tbk, (hereinafter, the "MNC Group"), Indonesia's largest media group, and Ishimori Production Inc. (headquartered in Shibuya-ku, Tokyo; Akira Onodera, President; hereinafter "Ishimori Production").
BIMA, which was Indonesia's first original tokusatsu drama series coproduced by the MNC Group and Ishimori Production, was broadcast from June through December, 2013 on RCTI, Indonesia's largest terrestrial broadcaster centered around the MNC Group. It ranked first in viewing rate among the programs produced by terrestrial TV networks and broadcast in the same time zone, while the series is planned to be broadcasted in countries such as Thailand and Malaysia, received a great response domestically and internationally. It has also attracted attention for its role in developing the Indonesian licensing business.
 After receiving positive feedback from viewers of the first season of BIMA, BIMA-X is scheduled to air for one year, substantially longer than the six months during which the first series ran, and the story provided by Ishimori Production will be developed further. As before, ITOCHU has agreed to continue its alliance with Bandai Co., Ltd., who will commercialize the core toys, and SUZUKI MOTOR CORPORATION, who will work together with ITOCHU in the sales and promotion of the products. In addition, ITOCHU has entered into a new collaboration with Amuse Inc. and has decided to adopt flumpool's music as a theme song.
ITOCHU is promoting the planning and production of BIMA-X as it did for the first series and has signed a worldwide exclusive contract to be the master licensee. ITOCHU intends to continue to further strengthen the Indonesian licensing business focusing on the BIMA series going forward. At the same time, ITOCHU is planning to expand its alliance with domestic and foreign manufacturers and to contribute to promoting the content through utilizing the characters in the series with the aim of achieving sales of 5 billion yen over the next three years.

About the MNC Group
Indonesia's largest media group, which is centered around PT.Global Mediacom Tbk. It owns three TV stations, including RCTI, the nation's first private TV station, and spans a broad range of media-related business such as newspapers, radio, magazines, Web, and mobile content.
About BIMA-X
As with the first series, BIMA-X is adopted from Japanese original content and will be produced with the support of Japanese production know-how, but will be completely localized. The cast will consist of Indonesian actors and actresses and the entire series will be filmed locally in the Indonesian language, to offer local viewers a greater sense of connection and enjoyment. A member of JKT48, the sister group to AKB48, is being cast as the heroine.
Kanti Mirdiati, RCTI Managing Director, expects that "this series, which merges the know-how of Japanese tokusatsu drama series and the Indonesian culture, will not only be loved by all the children and families in Indonesia, but also become a symbol of a new superhero in Indonesia."

Satria Garuda BIMA-X trailer
Broadcast schedule
Starting from September 7, 2014, the series consisting of a total of 50 episodes will air at 8:30 a.m. every Sunday on the terrestrial broadcaster RCTI. The first episode will be a one-hour special program. It will be rerun at 3:30 p.m. every Saturday.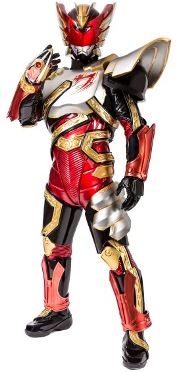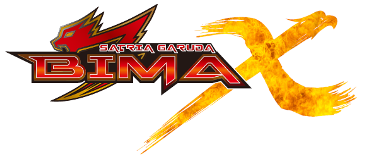 ---