ITOCHU Announces Acceleration of Development, Targeting Increased Asset Value in the Logistics Facilities Area in Japan
Acquires target assets for investment of JPY 100 billion in the next three to five years
September 9, 2014
ITOCHU Corporation (headquartered in Minato-ku, Tokyo; Masahiro Okafuji, President & CEO; hereinafter "ITOCHU") announced today that it will accelerate its logistics facilities development business that utilizes a customer network uniquely available to sogo shosha (general trade company) and aim to contribute to the development of the commercial distribution and logistics business that responds to changes in the supply chain in Japan by building a new business model and increasing asset value.
In 2004, ITOCHU created and began managing a private fund specializing in logistics facilities, ahead of its competitors. In this business, based on the customer needs that ITOCHU identified by aggressively utilizing a commercial distribution plus logistics network, ITOCHU considers BTS logistics facilities (*1) in Japan to be a core business and has been developing logistics facilities. To date, it has developed a business with a scale exceeding JPY 200 billion and a gross floor area of approximately 1,000,000 square meters.
In recent years, the logistics facilities market in Japan has entered a new phase. Currently, the number of J-REITs for logistics facilities has grown to six with a total market value of more than JPY1 trillion, and the recognition among investors has increased rapidly. Meanwhile, also in the market for logistics and transportation, because of the change in the supply chain caused by the rapid expansion of the e-commerce industry and the elimination and consolidation of facilities due to the enhancement of services and aging of facilities, as well as improvements in the efficiency of delivery costs, demand for advanced logistics facilities has been increasing.
To respond to the change in the logistics/supply chain, financial market, and real-estate market, ITOCHU will further expand its investment in logistics facilities. In addition to the BTS logistics facilities it has mainly developed to date, ITOCHU plans to expand into a business model for multi-tenanted logistics facilities (*2) in order to better respond to customers' needs and changes in supply chains, with an accumulated total investment of approximately JPY 100 billion in excellent logistics facilities over the next three to five years.
ITOCHU aims to increase its asset value to build a new value chain for logistics facilities. Eying the financial and capital markets, it will also consider the establishment of a J-REIT in the future.
In addition, to expand business in this area, ITOCHU established a new joint business scheme with Mapletree Investments Pte Ltd. (headquartered in Singapore; Hiew Yoon Khong, CEO of the Group; hereinafter "Mapletree"*3).
By utilizing this business scheme, ITOCHU is able to use Mapletree's global marketing network, which allows ITOCHU to jointly identify customers and develop an efficient investment scheme. By promoting a joint investment project that optimizes the use of the two companies' resources, ITOCHU is accelerating the increase in asset value in the logistics facilities business.

Summary of Business
| | |
| --- | --- |
| Target assets for investment | Development of multi-tenanted/BTS logistics facilities in the Tokyo metropolitan area and major cities throughout Japan |
| Target asset value | JPY 100 billion (planned) |
| Planned period | three to five years |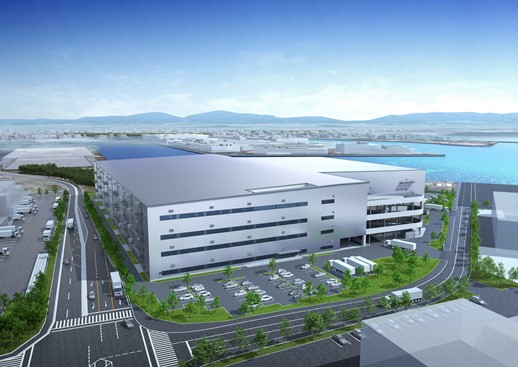 BTS (Build To Suit) logistics facilities: Logistics facilities exclusively for tenants that are developed based on the tenants' desired locations and construction specifications.
Multi-tenanted logistics facilities: Logistics facilities that, to appeal to multiple tenants, secure general-purpose properties and have high-level construction specifications.
About Mapletree: Established on December 18, 2000.
Fully owned by Temasek Holdings Ltd. (An investment corporation owned by the Singapore government).
An Asia-focused real-estate development, investment, and capital management company headquartered in Singapore.
Owns and manages office, logistics, industrial, residential, and retail/lifestyle properties valued at SGD 24.6 billion as of March 31, 2014. Currently, it manages four REITs listed on the Singapore Exchange and seven real-estate PE funds, which together hold an extensive portfolios of assets in seven countries in Asia.
---