ITOCHU Announces Acquisition of Exclusive Import and Distribution Rights of US-based Derek Lam and Derek Lam 10 Crosby Brands
November 12, 2014
ITOCHU Corporation (headquartered in Minato-ku, Tokyo; Masahiro Okafuji, President & CEO; hereinafter "ITOCHU") announced today that it has concluded an agreement with the US-based Derek Lam International, LLC (hereinafter "DL") in respect of the exclusive import and distribution rights in the Japanese market for the Derek Lam and Derek Lam 10 Crosby brands that originated in New York. Market release of womenswear and bags will commence from the 2015 autumn/winter season through Toray Diplomode, Inc. (headquartered in Minato-ku, Tokyo; Toru Chiba, President; hereinafter "Toray Diplomode").

The Derek Lam brand was named after the designer Derek Lam, who established DL in 2002. Since its debut during the 2003 New York Fashion Week, the label has been held in high regard not only in New York but around the world, as a result of Lam's superb sense that fuses contemporary elements with traditional American sportswear to convey a sense of luxury. In 2011 he set up the new diffusion line Derek Lam 10 Crosby. Today, the Derek Lam brand's flagship store stands in Madison Square, New York, with the label also being sold in well-known department stores and specialty stores such as Barneys, Bergdorf Goodman, Nieman Marcus, and Saks Fifth Avenue. The brands are attracting increasing attention, with the first flagship store for the Derek Lam 10 Crosby brand set to open in Soho, New York in late November.
The conclusion of this contract fuses DL's aim of enhancing brand value and expanding its business in the global market with ITOCHU's aim of further expanding its portfolio by introducing a quality and high value-added brand into the Japanese market. In collaboration with Toray Diplomode, which promotes the business expansion of import brands, ITOCHU will vigorously promote the worldview of the Derek Lam and Derek Lam 10 Crosby brands in the Japanese market, targeted at women who appreciate quality and sophisticated styling. This will be accomplished via the main sales channels of well-known department stores and high-end specialty stores, with the aim of achieving retail sales of 1.5 billion yen in three years' time.

Profile of Toray Diplomode, Inc.
| | |
| --- | --- |
| Company name | Toray Diplomode, Inc. |
| Representative | Toru Chiba |
| Location of head office | No. 28 Mori Bldg, 4-16-13 Nishi-Azabu, Minato-ku, Tokyo |
| URL | |
2015 spring collection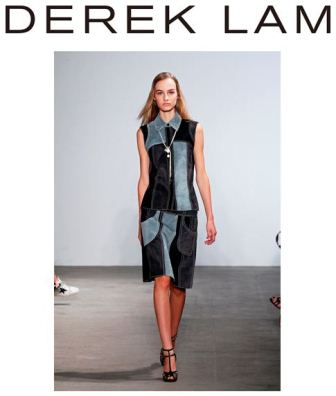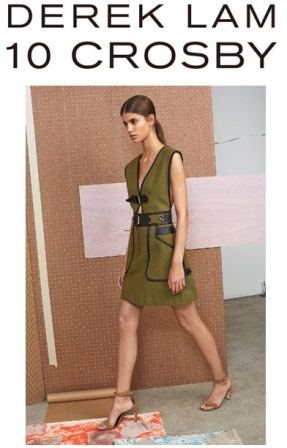 ---