ITOCHU Announces Spokesmodel Contract for U.S. Brand Hang Ten
November 17, 2014
Itochu Corporation (headquartered in Minato-ku, Tokyo; Masahiro Okafuji, President & CEO; hereinafter "ITOCHU") announced today that it has entered into a contract with former Japanese Nordic combined skier Tsugiharu Ogiwara and women's professional volleyball player Megumi Kurihara to serve as spokesmodels for the U.S. comprehensive lifestyle brand Hang Ten, for which ITOCHU holds the master licensing rights in Japan.
Tsugiharu Ogiwara, together with his twin brother Kenji, has an accomplished track record representing Japan as a Nordic combined skier, winning the Nordic World Ski Team Championships in 1995, and winning prizes in the individual and team events at the 1998 Nagano Olympics. Since retiring from his athletic career, his media appearance and public speaking activities have won him a wide following of fans for his refreshing and witty personality. Currently, as a JOC Olympic movement ambassador, he focuses on promotional activities for the Olympics, as well as being known as a keen surfer.
Megumi Kurihara is a professional volleyball player who plays for the V. Premier League Hitachi Rivale. First selected for the Japan women's national volleyball team as a senior high school student in 2001, she went on to take part in the 2004 Athens Olympics and the 2008 Beijing Olympics, with her performance as best scorer helping the national team secure 5th place. As Japan's V. Premier League superstar, she continues to be active today. Affectionately nicknamed "Princess Meg," she is also known for having created a major social phenomenon through volleyball as a result of her star quality.
The Hang Ten brand is an authentic surf brand originating in San Diego, California. It was founded in 1960 by Duke Boyd, a young surfer who was inspired by the ultimate surfing technique "Hanging Ten," which means hanging all ten toes over the nose of a long board. Boyd launched boardshorts with two footprints sewn on, which later became known as the brand logo. It later became widely recognized mainly on the West Coast as a surfwear brand for the authenticity-minded, and today is the brand of choice for men and women across the generations in every part of the world as a comprehensive lifestyle brand with surfers' taste that represents California's free spirit, individuality, and insistence on authenticity.
ITOCHU has been extensively licensing Hang Ten apparel and tie-in merchandising since acquiring the master licensing rights for the comprehensive lifestyle brand in the Japanese market in 2005. With increased opportunities to take up sport or otherwise encounter the greatness of sport in the lead-up to the 2020 Tokyo Olympics, the sports-related market is expected to grow. By having Tsugiharu Ogiwara and Megumi Kurihara, world-class athletes with a strong Olympic profile, serve as spokesmodels, we propose the new dimension of "A lifestyle of free time and holidays that top athletes appreciate" to enhance the brand's value in the Japanese market and raise its profile further as a comprehensive lifestyle brand.

Promotion visuals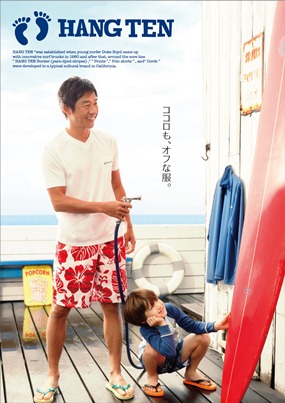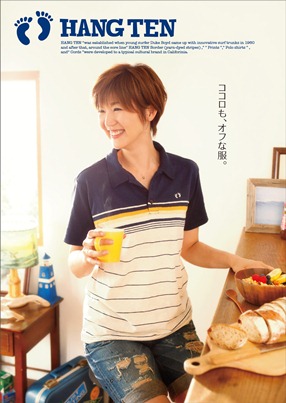 ---