ITOCHU Announces Conclusion of Contract with the Ski Association of Japan for the U.S. brand AIRWALK as Official Supplier for Japan Snowboard Team
December 15, 2014
ITOCHU Corporation (headquartered in Minato-ku, Tokyo; Masahiro Okafuji, President & CEO; hereinafter "ITOCHU") announced today that it has concluded a contract with the Ski Association of Japan for the U.S. brand AIRWALK as the official supplier for the Japan Snowboard Team. ITOCHU will begin supplying official uniforms to Japan national team members and staff from the 2014-2015 season.
The AIRWALK brand was established in 1986 in California, United States, as a brand of footwear for skateboarders and BMX riders, instantly rocketing to nationwide success owing to its innovative design combined with superior durability and functionality. Later, with the rise of action sports, AIRWALK branched out from specialized footwear for the skateboarding, BMX, snowboarding and mountain biking categories to develop related merchandise such as casual wear, snow wear, and accessories, transmitting its unique culture. AIRWALK continues to captivate youth culture through the support to professional skaters, BMX riders, snow boarders, musicians, and others, both in Japan and overseas, as well as through sponsorship of sports and music events.
In 1997, ITOCHU acquired the master licensing rights for certain product categories with the exception of footwear, snow sport hard goods, and snow outerwear in the Japanese market, and together with 10-sub licensees is currently accelerating multifaceted business operations aimed at improving brand value.
Snowboarding in Japan is a winter sport that is attracting increasing attention following silver medal wins by Ayumu Hirano and Tomoka Takeuchi and a bronze medal win by Taku Hiraoka at the Sochi Olympics held in February this year. ITOCHU is greatly honored to have been chosen by the Ski Association of Japan as the official uniform supplier for the Japan Snowboard Team. Through support of the Japan national team, we will promote the worldview of the AIRWALK brand more assertively, increasing brand value.

Items to be supplied
Snow Wear
Outer jacket
Outer pants
Middle jacket
Windbreaker
Windpants
Knitted cap
Training Wear
Jersey jacket
Jersey pants
Tee
Short pants
AIRWALK Brand Logo

Japan Snowboard Team official uniform design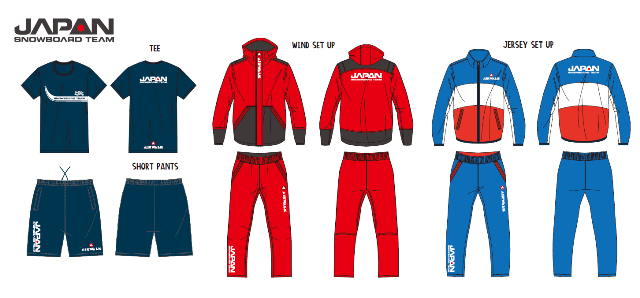 ---