ITOCHU Announces Capital/Business Alliance with VINATEX in Vietnam
January 16, 2015
ITOCHU Corporation (headquartered in Minato-ku, Tokyo; Masahiro Okafuji, President & CEO; hereinafter "ITOCHU") announced today that it has concluded an agreement for a strategic business alliance (hereinafter "Alliance") with the Vietnam National Textile and Garment Group (hereinafter "VINATEX"), a Vietnamese state-run textile company group, by acquiring shares of the company through a subsidiary company, ITOCHU Textile Prominent (ASIA) Ltd. (headquartered in the Hong Kong Special Administrative Region; Motonari Shimizu, CEO; hereinafter "IPA").
Established in 1995, VINATEX is the largest textile company in Vietnam. It has 83 subsidiaries and affiliates, with approximately 120,000 employees, and handles operations from the upstream to downstream processes in the textile industry. ITOCHU and VINATEX have maintained a steadfast relationship that stretches back to the time when the two companies began OEM-related apparel transactions in 1990s. ITOCHU has been working to strengthen the production bases of textile products in Asia and build an optimized local production system. It positions Vietnam as one of its most important operation bases because the country has attracted a lot of attention as the next major manufacturing locale after China. The reinforced partnership with VINATEX, the largest textile company group in Vietnam, is expected to generate a wide range of synergetic effects, such as increased trade on the back of favorable customs duties under FTA and other agreements, as well as the creation of new businesses. For these reasons, ITOCHU has decided to conclude an agreement for the Alliance.
Heading into the future, ITOCHU will move forward with measures to strengthen the sales of textile products in the countries of Europe, the United States, and Asia, including Japan and China while making the most of strong textile production bases for the VINATEX group in Vietnam and the global network of the ITOCHU group. VINATEX also seeks to expand its operations from the upstream to midstream processes and the area of garment materials, thereby establishing a value chain within the Vietnamese textile industry. Leveraging the extensive expertise and networks that ITOCHU has acquired to date in the textile industry, as well as the global company's business management methods, ITOCHU will contribute to VINATEX as it strives to further enhance its corporate value and expand business.

Overview of VINATEX
| | |
| --- | --- |
| Company name | Vietnam National Textile and Garment Group (Abbreviated as VINATEX) |
| Representative | Mr. Tran Quang Nghi (Chairman) |
| Location of head office | 25 Ba Trieu Street, Hoan Kiem District, Hanoi, Vietnam |
| Year established | 1995 |
| Capital | Approximately 233 million US dollars (approx. 28 billion yen) |
| Number of employees | Approximately 120,000 |
| Sales | Approximately 1,908 million US dollars (approx. 230 billion yen) as a group |
| URL | |
Signing ceremony for the strategic business alliance agreement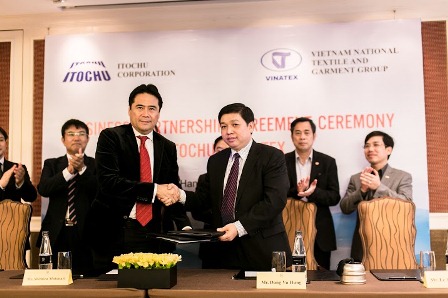 ---