ITOCHU's 100% Subsidiary Japan Aerospace Receives Orders from Benesse Holdings for Latest Body Scanners (First Installation in Japan)
February 2, 2015
Japan Aerospace Corporation (headquartered in Minato-ku, Tokyo; Hitoshi Tanimura, President & CEO; hereinafter "Japan Aerospace"), a 100% subsidiary of ITOCHU Corporation (headquartered in Minato-ku, Tokyo; Masahiro Okafuji, President & CEO; hereinafter "ITOCHU") has received orders from Benesse Holdings, Inc. (hereinafter "Benesse") for the ProVision®2, a personal body screening system manufactured by the U.S. company L-3 Communications Security & Detection Systems (hereinafter "L-3"). It is scheduled to be delivered and commence operations at Benesse's facilities in Okayama-shi at the end of March 2015.
L-3's body scanners are advanced screening system that are developed to prevent both metallic and non-metallic materials (plastics, ceramics, wood, etc.), liquids, powders and other suspicious objects that existing metal detectors at airport security checkpoint are unable to detect from being carried on board. With the global tightening of anti-terrorism measures, approximately 1,000 systems have already been delivered worldwide, with a concentration on airport security checkpoints. Of those 1,000, approximately 750 are already in operation at U.S. airports, and an increasing number have been introduced at airports in Europe and around the world in recent years. In addition, the screening systems use safe active millimeter wave technology, and also eliminate privacy concerns by highlighting threats using a generic mannequin that resembles human outline.

In Japan, Japan Aerospace, the exclusive sales agent of L-3's security equipment, has introduced the systems to airports and facilities that require strict entry-exit management to prevent suspicious items from being carried in and out. The worldwide sales record and advanced detection technology led to the recent sales toBenesse. This is the first time that the ProVision®2, the newest model of L-3's body scanners, will be installed in Japan.
Japan Aerospace will contribute to safety and security in Japan by providing body scanners and other state-of-the-art security equipment, not only to airports but also to clients who view safety as a top priority.

"ProVision®2" body scanner by L-3
| | |
| --- | --- |
| Use | Inspections to check for suspicious objects being carried in and out |
| Technology | Active millimeter wave |
| Detection method | Automatic detection |
| Detection targets | Metals, nonmetals, liquids, powders, etc. |
| Installation locations | Airports, key infrastructure, data centers, event venues, etc. |
| Dimensions | 2.36m (H) × 1.50m (W) ×2.27m (D) |
| Weight | 681kg |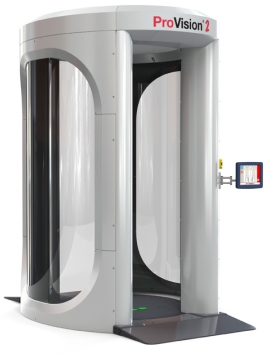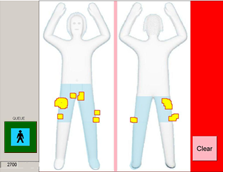 ---