Skype Credit ITOCHU Announces "Let's Skype on White Day!" Campaign
February 3, 2015
ITOCHU Corporation (headquartered in Minato-ku, Tokyo; Masahiro Okafuji, President & CEO; hereinafter "ITOCHU") announced today that it would launch a limited-period campaign on February 3 for the Skype Prepaid Card, which is provided as a means of account settlement for Skype (see Note 1) services.
Ten winners selected from among those who purchased a Skype Prepaid Card (1,000 yen) at Seven-Eleven stores across the country during the campaign period will be granted the opportunity to speak with the members of the girl idol group 9nine on Skype.

Campaign Outlines
Campaign Outlines
Let's Skype on White Day!
Campaign period
February 3 (Tuesday) to 15 (Sunday), 2015
Application period
February 3 (Tuesday) to 23:59 on 16 (Monday)
Store
Seven-Eleven stores across Japan*1

(Some of the stores don't provide with this service)

Item
1,000-yen Skype Prepaid Card*2, 3
Campaign benefit
Ten winners selected from among those who applied will have the opportunity to speak directly with 9nine members on Skype on 14th March 2015.
*1: Skype Prepaid cards bought at stores where this campaign is not provided are not covered.
*2: This campaign does not include purchases through the multi-copying machine.
*3: An application can be submitted for every 1,000 yen spent on the Skype Prepaid Card.

Please check http://skype-cp.com

for details about how to apply and more information about the campaign.
9nine
9nine is a girl idol group that consists of five members: Umika Kawashima, Uki Satake, Hirona Murata, Kanae Yoshii, and Sayaka Nishiwaki. They are well-known for their high-quality singing and dancing during live performances. The group performed at the ROCK IN JAPAN FES. 2014 on August 3, 2014, and also drew 10,000 fans for their first concert at the Nippon Budokan on August 21. They are a talented performing group many people are talking about right now.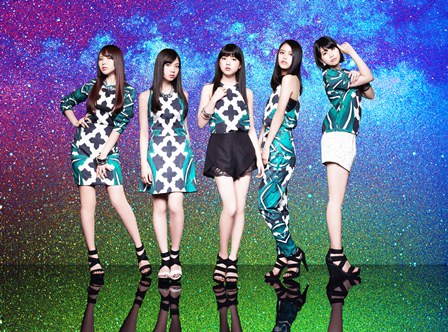 ITOCHU began selling Skype Credit, a form of prepaid e-money by which paid Skype services can be used in Japan, through the multimedia kiosk (see Note 2) at major convenience stores and on the Internet in October 2008. It also began selling the Skype Prepaid Card at stores in August 2014. ITOCHU will continue to plan and conduct a range of campaigns to further the development and expansion of Skype services.
Note 1: Skype
Skype is an Internet software that enables people all around the world to talk together. In addition to free calls between Skype users, Skype also provides paid services such as low-price calls on both fixed-line and mobile phones all over the world, including Japan, through the use of a Skype Prepaid Card and Skype Credit, sending and receiving voice mails, and forwarding e-mails.
Note 2: Multimedia kiosk
An information terminal with a touch screen set up at convenience stores and other shops.
---