Participation in the Project of long term Charter of LNG shipping capacity- Transportation of LNG from the U.S. to worldwide destinations.
February 13, 2015
ITOCHU Corporation (headquartered in Minato-ku, Tokyo; Masahiro Okafuji, President & CEO; hereinafter "ITOCHU") today announced that it has entered into a formal agreement to acquire 50% of the issued shares of 100% subsidiary of Mitsui O.S.K. Lines, Ltd. (headquartered in Minato-ku, Tokyo; Koichi Muto: President; hereinafter "MOL") and will participate in the project of Charter up to two new liquefied natural gas (LNG) carriers to E.ON Global Commodities SE (EGC; CEO: Christopher Delbrück; Head Office: Düsseldorf, Germany), a wholly-owned subsidiary of E.ON SE (E.ON; CEO: Dr. Johannes Teyssen; Head Office: Düsseldorf, Germany). The deal is due to be consummated immediately upon obtaining the approval of the competition law authorities in the relevant countries where approval is required.
And on 11th February 2015, MOL through their subsidiary signed the Agreements with EGC and also signed a deal with Daewoo Shipbuilding & Marine Engineering Co., Ltd. (DSME), Korea to build maximum of two new 179,900m3 LNG carriers to be able to fulfil the contractual requirements to EGC.
MOL will manage the new vessels and will transport liquefied natural gas (LNG) from a shale gas liquefying plant in the North America to Europe and other worldwide destinations.
EGC is the energy trading arm of E.ON SE, one of the world's largest investor-owned power and gas companies. As the commercial hub for E.ON SE to the international wholesale markets, it sources, stores, transports, markets and trades energy commodities on a global scale. The company also owns and operates a pipeline infrastructure business, which supports gas supply and trading activities, and an unbundled gas storage business.
This is first long term charter project of LNG carrier for ITOCHU with LNG end-user in Europe and ITOCHU will contribute to the stable supply of energy through the transportation of LNG globally.

Outline of the Agreement to Charter
Shipowner

wholly owned subsidiary by MOL

(50% shares to be assigned to ITOCHU)
Charterer
E.ON Global Commodities SE
Chartering period
Starting 2018 (20 years)
Profile of new building LNG carriers
| | |
| --- | --- |
| Length | 297.2m |
| Breadth | 46.4m |
| Breadth | 11.80m |
| Cargo tank capacity | 179,900m3 |
| Shipyard | Daewoo Shipbuilding & Marine Engineering Co., Ltd. |
| Ship management company | Daewoo Shipbuilding & Marine Engineering Co., Ltd. |
Signing Ceremony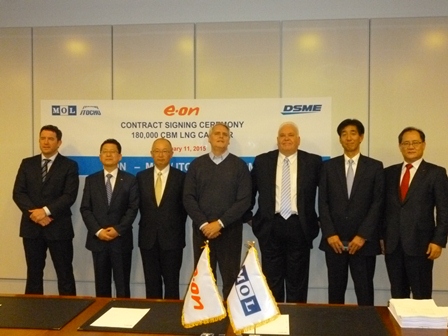 ---