ITOCHU Announces General Sales Agency Agreement with Italian Advanced Technology Manufacturer that has Successfully Achieved Mass Production of Lightweight, Compact Products for the Automotive Duct Molding Sector
February 23, 2015
ITOCHU SysTech Corporation (headquartered in Chuo-ku, Osaka; Hiroyuki Sonoda, President & CEO; hereinafter "ITOCHU SysTech"), a subsidiary of ITOCHU Corporation (headquartered in Minato-ku, Tokyo; Masahiro Okafuji, President & CEO; hereinafter "ITOCHU") announced today that it has concluded an agency agreement with Soffiaggio Tecnica S.R.L. (headquartered in Monza, Italy; Martin Graziadei, CEO; hereinafter "ST") in relation to general sales of 3D suction blow molding equipment in Japan, using technology that enables molding of lightweight, compact automotive ducts.
3D suction blow molding equipment
3D suction blow molding equipment enables integrated molding of long and complex resin ducts used to join parts together.
With environmental measures becoming an increasingly urgent priority, 3D suction blow molding is an essential process for the global automotive industry. It has received a great deal of attention as a key technology for plastic automotive parts, due to the significant contribution it makes to the development of lightweight vehicles and smaller engines.
ST was one of the first companies to focus on development of mass production equipment for 3D suction blow molding. As a result, it has successfully manufactured products that are less than half the weight of standard ducts, and has also managed to cut production costs by around 30%. There are only two companies in the world, including ST, with the technology to develop 3D suction blow molding equipment.
Having kept a close eye on ST's outstanding technology, ITOCHU SysTech has now concluded an agency agreement for general sales in Japan, and will start selling the relevant equipment to domestic automotive parts manufacturers.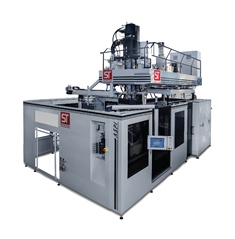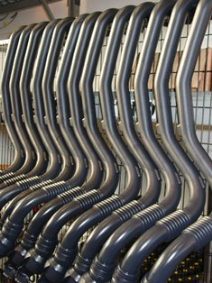 Trends in lightweight, compact development in the automotive market
Most automotive and automotive parts manufacturers are currently working to reduce the weight of vehicle bodies, interior fittings and external parts, and to reduce the size of their engines, as part of environmental measures aimed at improving fuel efficiency and limiting emissions.
In recent years, European automotive manufacturers in particular have been fitting their vehicles with turbo engines, in an effort to advance development of compact bodies and engines. As the space available for ducts surrounding the engine is becoming increasingly limited, there is a growing need for more complex duct configurations. Previously, ducts inside the engine compartment used to be manufactured by molding parts individually from metal, plastic and rubber, and then joining them together. In addition to being complicated and costly, this process also imposed limitations on lightweight development. As a means of reducing their weight and size, more and more ducts are being made from plastic, which is lighter than metal and more easily configured. A key issue however is the development of plastic ducts that are highly flexible whilst also being heat resistant.
ST's 3D suction blow molding equipment is able to mold configurations that are both long and complex, going beyond the limitations of conventional manufacturing methods. It will also make a significant contribution to environmental measures throughout society, by promoting development of plastic automotive parts.

Demonstration Machine
ITOCHU SysTech has installed a demo unit to produce samples (preproduction tests), and plans to make the relevant equipment available for viewing and testing (March 2015).
ITOCHU SysTech
| | |
| --- | --- |
| Name | ITOCHU SysTech Corporation |
| Representative | Hiroyuki Sonoda, President & CEO |
| Head Office | 3-6-14 Minami-Honmachi, Chuo-ku, Osaka, Osaka prefecture |
| Established | April 1, 1969 |
| Capital | 480,000,000 yen |
| Business activities | Industrial machinery imports, exports, overseas and domestic sales, and engineering services |
| Website | |
Soffiaggio Tecnica S.R.L.
| | |
| --- | --- |
| Name | Soffiaggio Tecnica S.R.L. |
| Representative | Martin Graziadei |
| Head Office | Monza, Italy |
| Business activities | Manufacturing 2D blow molding and 3D suction blow molding equipment |
| Website | |
---