ITOCHU Announces Agreement on Investment in PT Triguna Internusa Pratama, a company engaged in Gas Infrastructure Business in Indonesia
March 23, 2015
ITOCHU Corporation (headquarters in Minato-ku, Tokyo; Masahiro Okafuji, President & CEO; hereinafter "ITOCHU") announced today that ITOCHU has reached an agreement with PT Rukun Raharja Tbk (listed on the Indonesia Stock Exchange, hereinafter "RAJA"), an Indonesian natural gas distribution and transportation service provider, on the acquisition of 33% of the stocks of PT Triguna Internusa Pratama (hererafter "TIP"), a subsidiary whose stocks are 99.98% owned by RAJA and which provides gas distribution and transportation services utilizing its onshore gas pipeline and compressors, for USD 12,500,000.
TIP owns and utilizes gas-related infrastructures such as onshore pipelines and compressors in the western area of Java and the southern area of Sumatera to provide stable gas transportation to gas traders who sell gas to power plants and industrial complexes. The company is currently constructing new pipeline in the eastern area of Java, accumulating high quality infrastructure assets and expanding the scope of business operations successfully. It will continue to proactively engage in gas infrastructure development in Indonesia.
With steady economic growth and the increasing population, domestic demand for natural gas is rising in Indonesia. However, since there are not sufficient infrastructures, the Indonesian government is planning to develop new gas pipelines with a combined total length of around 45,000 kilometers to add to the existing gas pipelines (a combined total length of around 11,000 kilometers). By developing businesses jointly with RAJA, which boasts the largest share of the gas infrastructure market among private companies apart from the state owned enterprises, ITOCHU intends to capture expected new opportunities in the Indonesian gas infrastructure market to generate long-term stable profits, and aims to expand its business in the energy infrastructure field.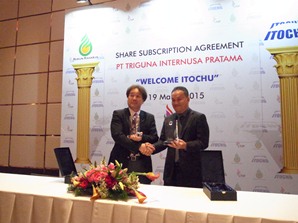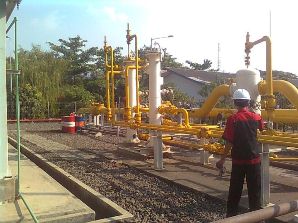 Corporate profile of RAJA
| | |
| --- | --- |
| Company name | PT Rukun Raharja Tbk (URL:http://www.RAJA.co.) |
| Representative | Budiman Parhusip, President Director |
| Headquarters | Jakarta, Indonesia |
| Founded | 1993 |
| Capital | USD 55,570,000 (term ended December 2013) |
| Sales | USD 137,180,000 (term ended December 2013) |
---