ITOCHU Announces Acquisition of Exclusive Import and Sales Rights for New Zealand Label Karen Walker
May 21, 2015
ITOCHU Corporation (headquartered in Minato-ku, Tokyo; Masahiro Okafuji, President & CEO; hereinafter "ITOCHU") has acquired the exclusive rights to import and sell Karen Walker, a New Zealand women's clothing label, in the Japanese market. ITOCHU will begin selling Karen Walker products through Coronet Corporation (headquartered in Chiyoda-ku, Tokyo; Shigeaki Chiba, President; hereinafter "Coronet") in the 2016 Spring-Summer season.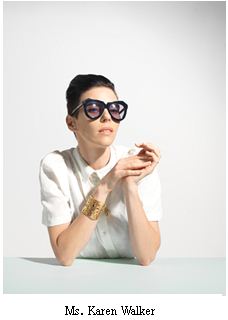 The Karen Walker label was established in 1989 by Ms. Karen Walker, a New Zealand-born designer. The label is strikingly characterized by its high-quality casual design, which sophisticatedly combines seemingly conflicting elements such as masculinity/femininity and monotone/appealing colors. After releasing a collection at Hong Kong Fashion Week in 1998, Walker released collections in Sydney and London before being celebrated as the first New Zealander to release a solo collection at New York Fashion Week in the 2007 Spring-Summer season. She continues to release collections at New York Fashion Week every season.
For two years in a row from 2013, the Business of Fashion (BoF) chose Walker as one of the BoF500: The People Shaping the Global Fashion Industry. Today, she is among the designers who receive the most attention in the world.
The Karen Walker label has solid ranges of accessories such as eyewear and handbags in addition to its staple items of women's clothing. The label's merchandise is currently available at 950 stores in 200 cities in 30 countries, including the directly managed store in New Zealand, Barneys New York, Liberty London and other leading department stores, specialty stores and select shops. The label's influence is growing around the world.
In the Japanese market, the label will target fashion-conscious women in their 20s to 40s and will focus its sales outlets on department stores, specialty stores and select shops around the country while leveraging Coronet's experience and expertise. The perspective of the Karen Walker label will be strongly emphasized and the brand's visibility will be enhanced to ensure that its sales reach one billion yen on a recommended retail price basis after three years.
Retail Sale Price Range for Main Items
Coats 80,000 yen to 150,000 yen     Pants       30,000 yen to 40,000 yen
Jackets   50,000 yen to 70,000 yen Handbags 40,000 yen to 50,000 yen
Tops  30,000 yen to 50,000 yen Eyewear 30,000 yen to 50,000 yen
Dresses  40,000 yen to 70,000 yen Accessories 30,000 yen to 50,000 yen
Skirts  40,000 yen to 60,000 yen
Information about Coronet Corporation
| | |
| --- | --- |
| Company name | Coronet Corporation |
| Representative | Shigeaki Chiba |
| Head office | 2-8-4 Kudan-Minami, Chiyoda-ku, Tokyo |
| URL | |
2015 Fall-Winter Collection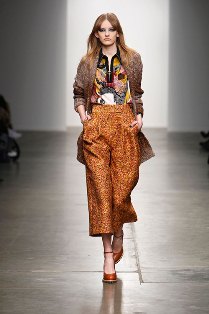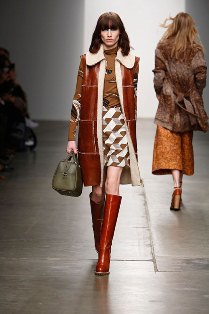 ---