ITOCHU Announces the Start of the Mega-solar Business at the Saijo Komatsu Solar Power Plant
June 25, 2015
ITOCHU Corporation (headquartered in Minato-ku, Tokyo; Masahiro Okafuji, President & CEO; hereinafter "ITOCHU") announced today the start of full-scale operation at the mega-solar power plant in Saijo, Ehime. ITOCHU owns the power plant jointly with Imabari Shipbuilding Co., Ltd. (headquartered in Imabari, Ehime; Yukito Higaki, President; hereinafter "Imabari Shipbuilding") and Higaki Sangyo Kaisha, Ltd. (headquartered in Imabari, Ehime; Takumi Higaki, President; hereinafter "Higaki Sangyo").
This project marks the start of operations in ITOCHU's mega-solar power business in Japan. The plant is located at the 400,000-square-meter site owned by Higaki Sangyo Kaisha, Ltd, where solar panels capable of generating approximately 33,000 kilowatts of power are set up. The largest-scale solar power plant in Shikoku, the prospected annual energy production is approximately 37,000,000 kilowatt-hour, which corresponds to the yearly power consumption of about 10,000 households. The project is expected to reduce carbon emissions by about 17,000 tons a year. The electric power generated under the project will be sold to Shikoku Electric Power Company, Incorporated for the next 20 years.
The construction of the power plant in the project was consigned to JFE Technos Co., Ltdr (the JFE Engineering Group), which has built a large number of solar power generation facilities in Japan. The project uses solar panels from Sharp Corporation. Following a one-and-half year period of construction, the solar power plant has begun full scale operation.
In addition to this project, ITOCHU is currently moving forward with other mega-solar power projects in Oita and Okayama. To respond to future increases in domestic demand for electric power, ITOCHU will use its business knowhow and experience to help ensure the stable distribution of power in Japan.
ITOCHU will give consideration to environmental preservation, such as the prevention of global warming, and work to contribute to the formation of a recycling society by proactively promoting power generation businesses based on renewable energy inside and outside Japan.
Overview of Saijo Komatsu mega-solar power plant
| | |
| --- | --- |
| Name | Saijo Komatsu Solar Power Plant |
| Location | 222 Himiko, Saijo, Ehime (former site of Komatsu golf courses) |
| Area of premises | Approximately 400,000 m2 |
| Scale of power generation | Approximately 33.79 MW (MW = megawatt; 1 MW = 1,000 kW) |
| Annual energy production | Approximately 37,000,000 kWh/year |
| Builder | JFE Technos Co, Ltd. |
| Solar panel | Manufactured by Sharp Corporation. Approximately 134,000 panels |
| Carbon dioxide emission reduction | Approximately 17,000 tons/year |
Photo of the power plant completion ceremony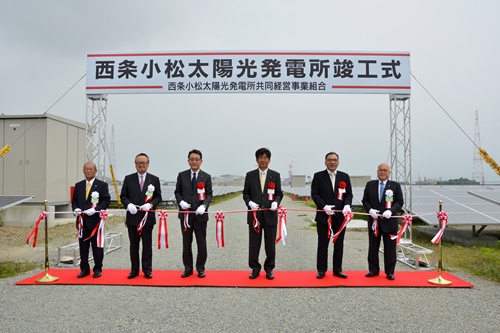 ---