ITOCHU Announces Acquisition of Exclusive Import and Distribution Rights for Italian Label Santoni
September 3, 2015
ITOCHU Corporation (headquartered in Minato-ku, Tokyo; Masahiro Okafuji, President & CEO; hereinafter "ITOCHU") announced today that it has acquired the exclusive rights to the import and distribution of the Italian luxury leather shoe brand Santoni in the Japanese market. ITOCHU will begin selling men's and women's footwear through REGAL Corporation (headquartered in Urayasu, Chiba Prefecture; Kojiro Iwasaki, President & CEO; hereinafter "REGAL") from the 2016 spring/summer season.
Santoni is a luxury leather shoe brand established in 1975 in the central Italian region of Marche. Founder Andrea Santoni was a craftsman of luxury leather goods, and his legacy of uncompromising commitment to quality, rigorous handmade workmanship, and passion for detail has been handed down to his son Giuseppe Santoni. Today, 40 years after its founding, the company has grown into the world's leading luxury leather shoe brand. Under the corporate motto of "Tradition and Innovation," the label continues to create goods that brook no compromise, from the selection of raw materials to the shoemaking process, utilizing an integrated production process in its own factory. This, coupled with persistent research and development and the pursuit of the ultimate in design, continues to charm fans worldwide.
The current lineup includes the men's leather shoe collection represented by elegant leather sneakers that lend grace to casual occasions and limited editions. Numerous other leather collections include women's shoes, children's shoes, bags, and leather accessories. The high popularity of the label accounts for the fact that it is sold in flagship stores, well-known department stores, specialty stores, and boutiques all over the world.
In the Japanese market, ITOCHU will commence successively rolling out the brand focusing on department stores, boutiques and specialty stores around the country, with plans to establish a flagship store in fiscal 2016. Moving forward, ITOCHU will promote the Santoni brand's worldview, leveraging its experience and expertise in the brand business together with its extensive experience and expertise of REGAL in the shoe industry, with the aim of achieving retail sales of 3 billion yen in five years.

Price range centred on retail sales
Men 's shoes:          90,000-150,000 yen
Women's shoes:        80,000-120,000 yen

Profile of REGAL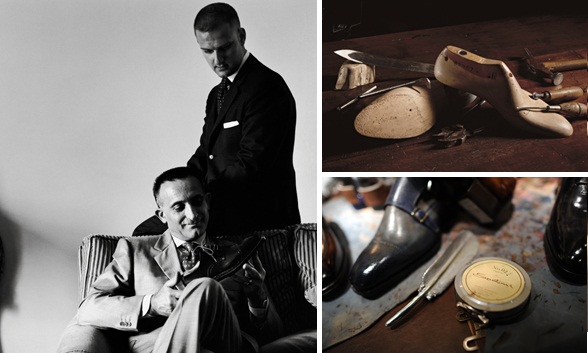 ---