ITOCHU Announces Official opening of Maules Creek Mine, New South Wales, Australia
September 4, 2015
ITOCHU Corporation (headquartered in Minato-ku, Tokyo; Masahiro Okafuji, President & CEO; hereinafter "ITOCHU") today announced official opening of the Maules Creek coal project in New South Wales, Australia jointly with Whitehaven Coal Limited (headquartered in Sydney, Australia; CEO: Paul Flynn; hereinafter "WHC"). On September 2, 2015, a ceremony commemorating the official opening was held at the site with the attendance of the Honorable Ian Macfarlane, the Minister for Industry and Science of the federal government of Australia, and other persons concerned from the government of Australia and the municipalities as well as Consul General of Japan Mr. Takaoka from Sydney and Japanese consumers in addition to the people concerned from WHC and Electric Power Development Co., Ltd. (hereinafter "J-POWER"), both of which participated in the Maules Creek coal project together with ITOCHU.
ITOCHU acquired 15% of the interests in the Maules Creek coal project through its subsidiary, ITOCHU Minerals & Energy of Australia Pty Ltd. on December 7, 2010. The said Project then undertook development toward the start of production and commenced shipment gradually from January 2015. The Project subsequently entered the stage of official opening. ITOCHU also secured the exclusive sales and marketing agency right for the sale of coal from the Maules Creek Mine to Japan and the preferred agency right for the sale of the coal to other countries at the time of the acquisition of the interests. As a result, ITOCHU will contribute to sales to consumers in Japan and Asia, including power utilities and steel mills.
The Maules Creek Mine has a large amount of proven reserves in Australia. It achieves cost reductions through large-scale operation and efficient management with the introduction of large equipment. It will produce highly competitive thermal coal for power generating and coking coal for steel making for over next thirty years. The thermal coal produced from Maules Creek Mine is high in calorific value, low in ash and sulfur. Such high quality coal is suitable for highly efficient and low emission thermal power facilities and the demand for this type coal is expected to grow worldwide. Production of the mine is planned to increase from the current level of 7 million metric ton per annum to the level of 13 million metric ton per annum with further cost reduction being expected.
Globally, ITOCHU holds its equity share 17 million metric ton per annum in coal mining operations. ITOCHU will ensure the further acquisition of prime assets, the construction of an optimum natural resources investment portfolio and expand its global seaborne trading to commit the increasing global demand.

Outline of Maules Creek Mine
Mine
75% for WHC, 15% for ITOCHU, 10% for J-POWER
Location

45km north-northwest of Gunnedah City, Gunnedah mining area,

New South Wales, Australia

Reserves

360 million metric ton

(proved: 150 million metric ton, probable: 210 million metric ton)

Coal type
Steam coal and coking coal
Mining method
Open cut
Outline of Whitehaven Coal Limited
Company name

Whitehaven Coal Limited (listed)

Representative

Paul Flynn

Location of head office

Sydney, New South Wales, Australia

Date of establishment
1999
Business description
Production and sales of coal
Coal mines held

Maules Creek Project (75%), Narrabri North Mine (70%),

Tarrawonga Joint Venture (70%), Vickery Project (100%), others
Map of mining area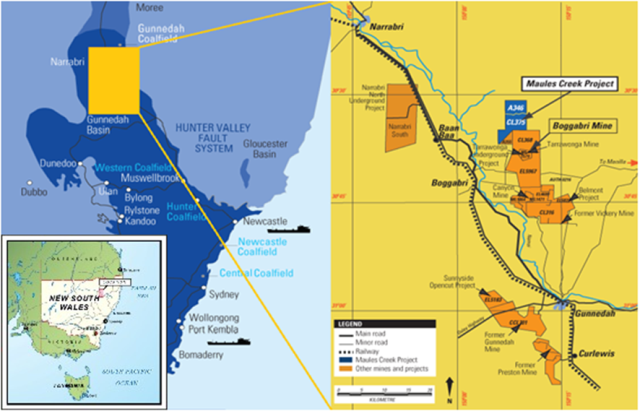 ---