ITOCHU and FamilyMart Announce Launch of New Inter-Store Courier Service "Haco BOON mini," Utilizing Existing Convenience Store Logistics Network
Service will commence from October 27, starting with Yahoo! Auctions users
October 26, 2015
ITOCHU Corporation (headquartered in Minato-ku, Tokyo; Masahiro Okafuji, President & CEO; hereinafter "ITOCHU") and FamilyMart Co., Ltd. (headquartered in Toshima-ku, Tokyo; Isamu Nakayama, President; hereinafter "FamilyMart") announced today that the launch of their new joint venture inter-store courier service "Haco BOON mini," which makes use of FamilyMart's existing convenience store logistics network. The service will commence as of October 27, 2015. The new service marks the first full-scale development and launch of a store-to-store courier service in Japan utilizing an existing convenience store distribution network.
The launch of the service is to begin initially with the delivery and receipt of auction items purchased through Yahoo! Auctions, one of the largest Internet auction sites in Japan, which is operated by Yahoo Japan Corporation (headquartered in Minato-ku, Tokyo; Manabu Miyasaka, President and Representative Director; hereinafter "Yahoo! JAPAN".) ITOCHU and FamilyMart then plan to gradually expand the service to accept deliveries of packages by customers other than users of the Yahoo! Auction service from around Spring 2016 onwards.
Until now, ITOCHU and FamilyMart have provided their economical Haco BOON courier service—which enables 24-hour Sending of packages at FamilyMart and receiving of them at home without the need for hand-written delivery labels—to around 1.7 million customers, including users of Yahoo! Auctions. The Haco BOON service has grown and thrived against the backdrop of the expansion of Internet auctions and other inter-personal online e-commerce marketplaces. Meanwhile, there were strong calls from the users of Yahoo! Auctions and other online e-commerce transaction services to be able to take delivery of their merchandise at convenience stores. As a result of negotiations between ITOCHU, FamilyMart and Yahoo! JAPAN in response to these demands, it was agreed to launch Haco BOON mini, a new courier service which is cheaper and more convenient than regular delivery methods, made possible through the effective utilization of free space in the existing convenience store logistics network.
Moreover, through its prevention of the need for redelivery in the absence of the recipient, and its proactive utilization of the existing logistics network, the new service also contributes to solving social issues, such as in the reduction of CO2 emissions, and other problems such as the shortage of delivery drivers that is accompanying the increase in the number of packages being handled by conventional home-delivery courier services.
Through the Haco BOON brand, ITOCHU and FamilyMart will continue to work towards the development of convenient, reasonably priced courier services that can be used in safety and with peace of mind, and which are designed from the perspective of all convenience store customers.

Main features of Haco BOON mini
Package and send items using dedicated #80 size (45×35cm) mailing bags, which are provided free of charge at FamilyMart stores
No need whatsoever for listing of personal information such as names and addresses on delivery labels
Items can be shipped and received at FamilyMart stores nationwide, all over Japan (*the service is not available at certain stores)
Simple, easy-to-understand pricing scheme, with four pricing types according to the region of delivery
Roles of each company
ITOCHU
ITOCHU is the main business operator for the Haco BOON brand, and is responsible for systems development, operations, payment settlements and logistics infrastructure, including the planning and operation of the Haco BOON mini service.
FamilyMart
FamilyMart is responsible for handling procedures for the sending and receipt of packages at approximately 11,500* FamilyMart convenience stores nationwide, located throughout Japan's 47 prefectures (*as of August 31, 2015).
Yahoo! JAPAN
Yahoo! JAPAN will adopt the Haco BOON mini service as a new logistics solution for Yahoo! JAPAN services, including Yahoo! Auctions, and promote the use of the service amongst its users.
How to use the service
Sending: for customers wishing to send packages
Obtain a dedicated courier pouch free of charge at a nearby FamilyMart store.
Complete delivery request procedures and payment of delivery charges online, and obtain a delivery order number (for sending).
Insert the item you wish to send into the dedicated courier pouch and take the package to your nearby FamilyMart store.
Enter your delivery order number or scan the barcode of your package at the in-store FamiPort terminal to issue an application ticket.
Complete sending procedures at the checkout counter.
Receiving: for customers wishing to receive packages
Receive your delivery order number and password (for receiving) via e-mail.
Visit the FamilyMart store that you designated as your receiving store.
Enter your delivery order number and issue an application ticket at the in-store FamiPort terminal.
Take receipt of your package at the checkout counter.
Outline of the New Service (simplified image of the logistics network)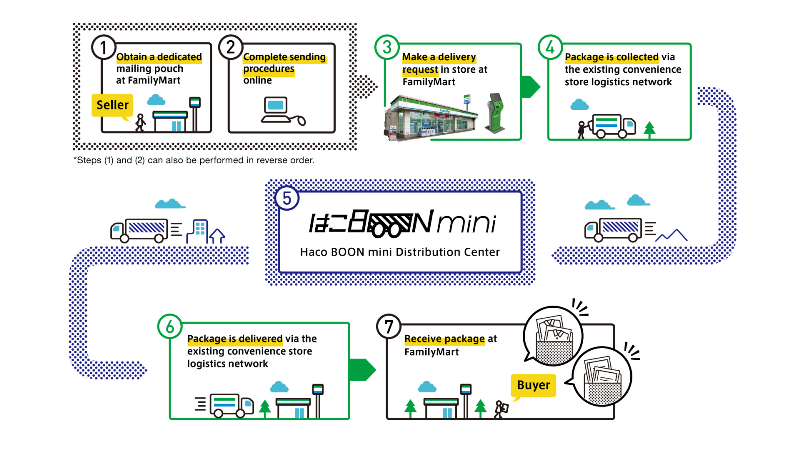 Pricing Scheme(tax inclusive)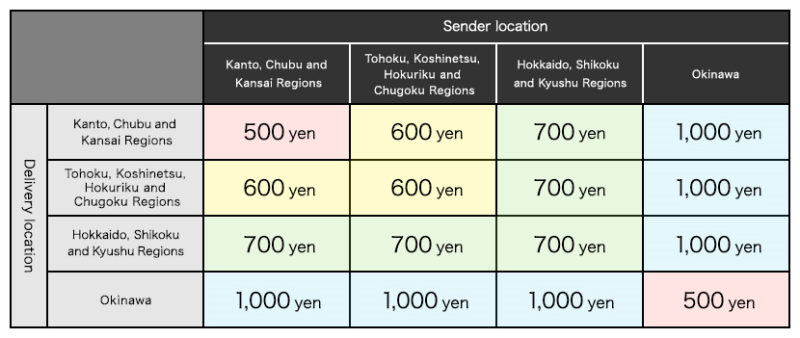 ---