ITOCHU Announces Merger of Assets Related to Iron Ore Mining Business in Brazil
December 1, 2015
ITOCHU Corporation (headquartered in Minato-ku, Tokyo; Masahiro Okafuji, President & CEO; hereinafter "ITOCHU") announced today the merger of Nacional Minérios S.A. (a Brazilian producer and seller of iron ore, hereinafter "NAMISA"), and the mining division of the major Brazilian steel producer Companhia Siderúrgica Nacional (hereinafter "CSN"). ITOCHU already owned a share in NAMISA through Brazil Japan Iron Ore Corporation (a consolidated subsidiary that ITOCHU established in collaboration with Japanese iron and steel producers, hereinafter "BJIOC") together with major steelmaking corporations in Korea and Taiwan as an international consortium, with the consortium owning a total 40% share in the company. A basic agreement regarding the merger was reached on November 25, 2014 (see November 25, 2014 press release

), and ITOCHU executed procedures to formally merge the two entities effective as of November 30, 2015.

As a result of this merger, ownership of the 40% of outstanding NAMISA shares owned by the consortium and the remaining 60% of outstanding NAMISA shares, the Casa de Pedra Mine (hereinafter "CdP") and various logistics assets (railway company shares and port facility usage rights) owned by CSN will all be transferred to a newly established, integrated company. The CdP Mine is one of the richest and largest iron ore mines in the world, and it is hoped that this merger will make the new integrated company the most highly competitive iron-ore supplier in the region through its possession of a superior mine and well-developed facilities and infrastructure. In the future, too, the company will continue to work towards the development and expansion of its production capabilities.

Through this merger, ITOCHU will receive approximately $700 million in cumulative funds equivalent to its share of equity assets. After the merger, ITOCHU's percentage share in equity assets will fall from its original share of 21.95% in NAMISA to an approximate 7.5% share in the new integrated company, becoming a standard-type investment, but ITOCHU will aim to earn revenues through dividend payouts, etc., from the excellent CdP mine. The impact of the merger on net profit attributable to ITOCHU is expected to be minimal, with no change to the consolidated earnings forecast for the period, which stands at ¥330 billion.

Moving forward together in collaboration with the consortium and CSN, ITOCHU will seek to expand iron-ore business operations in Brazil from the perspective of maintaining and expanding iron-ore interests, which represent an important revenue base for the company; and will continue to contribute to the economic development of Brazil and to the establishment of systems for ensuring a stable supply of resources, through the augmentation of the business infrastructure of the new integrated company.
Reference materials
(1)Overview of integrated company
Company name
CONGONHAS MINÉRIOS
Location
State of Minas Gerais, Federative Republic of Brazil
Details of business
Production and sale of iron ore
Shareholders

Companhia Siderúrgica Nacional (CSN),

a consortium of Japanese, Korean & Taiwanese steel producers
(2)Corporate structure after merger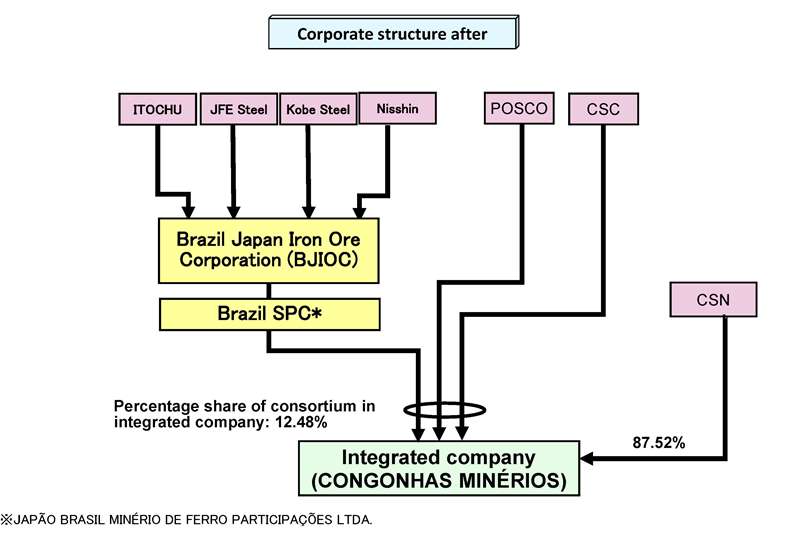 (3)Locations of NAMISA and the Casa de Pedra Mine (map)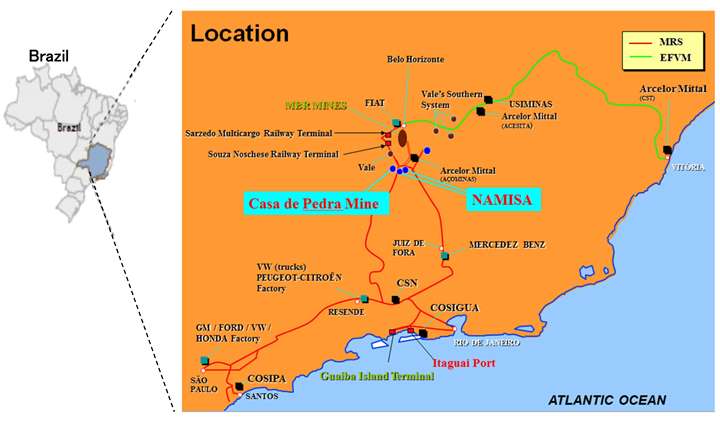 ---