ITOCHU Strengthens its Position in the Financial Technology Sector, Announces Capital and Business Tie-up with Liquid
December 25, 2015
ITOCHU Corporation (headquartered in Minato-ku, Tokyo; Masahiro Okafuji, President & CEO; hereinafter "ITOCHU") announced today that it will acquire shares in Liquid Inc. (headquartered in Chiyoda-ku, Tokyo; Yasuhiro Kuda, Representative Director; hereinafter "Liquid"), a company involved in personal authentication and payment services using biometrics, using third-party allotment. ITOCHU will also engage in a business tie-up with Liquid as it enters the cash-less and card-less authentication market.
Liquid, the subject of ITOCHU's latest investment, works on image analysis technologies focused on biometric information. It has also developed unique authentication algorithms that enable high-speed processing through big data analysis technologies utilizing machine learning, and is expanding its services to support the social infrastructure of future generations, such as the provision of personal authentication and payment services that only use biometrics.
Recently, social environments have undergone various changes. The number of credit cards, pre-paid cards and point cards held by individuals has increased, there is heightened demand for payment options in tourism and elsewhere in the lead up to the Olympics and other events, there has been an increase in the number of unique passwords maintained and managed due to the increased risk of information leaking over the Internet, and the psychological hurdles towards the provision of biometric data have been lowered due to the widespread adoption of fingerprint authentication on smartphones. In light of these changes, ITOCHU is seeking to promote the widespread adoption of its services in the retail, entertainment, financial, medical and smart city markets in Japan as well as Asian countries and regions such as Singapore, Indonesia, Thailand, the Philippines, China and Taiwan, and will engage in marketing support, system development and sales activities to this end.
 
ITOCHU is actively promoting investment in venture firms in Japan and overseas and has positioned the financial technology field as one of its areas of focus. Through capital and business tie-ups with companies creating advanced technologies and services, ITOCHU will play a role in building the financial systems that will form Japan's social infrastructure for future generations while leveraging its own global network to spread home-grown technologies and services around the world moving forward.

Outline of Liquid Inc.
Liquid has declared "creating a world where it is commonplace for a human itself to serve as the means for proving who they are" as its business mission and is developing biometric technologies using image analysis and big data analysis to achieve this. Rather than existing biometrics solutions that require external information such as cards and IDs, Liquid is expanding its business through the development of biometrics technologies that allow high-speed authentication through biometric information alone, even with a large number of users. Liquid's solution was even adopted by the ICT Innovation Creation Challenge Program (I-Challenge!) operated by the Ministry of Internal Affairs and Communications.
At present, Liquid sales and operates personal authentication systems provided to offices, schools and hospitals, payment systems for restaurants and hotels, as well as customer management systems. In the future, it is expected that new financial services using its technologies will be possible in the banking, securities and lease sectors, which only major firms have managed to enter in the past due to the large systems and high system development costs involved. In this way, Liquid expects to expand operations across a wide variety of fields.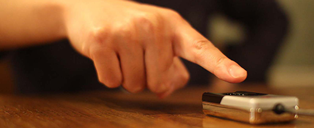 ---