Expansion of Syunsoku Brand
March 3, 2009
Product Features
The top junior sports shoes brand Syunsoku developed by Achilles Corporation was launched in May 2003 with the concept of "delivering high performance on sports days." The main feature is asymmetrical soles with more spikes on the left side of the sole that bears the weight in track events, allowing the runner to maintain speed by gripping hard even on corners where speed tends to drop.
The core target is third and fourth grade elementary school children, and the shoes are offered in sizes 15cm-28cm. The most popular size is 21.5cm. For the growing child, sizes go up to 28cm to cater for demand from junior high school-aged children and above. The product lineup has been extended, including the Syunsoku LemonPie for girls, and currently the proportion of boys' to girls' shoes stands at 6:4.
Sales Performance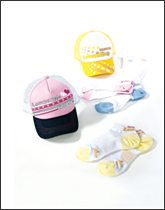 | | | |
| --- | --- | --- |
| FY 2003 | 240,000 pairs | |
| FY 2004 | 700,000 pairs | |
| FY 2005 | 1.58 million pairs | |
| FY 2006 | 3 million pairs | (launched Syunsoku LemonPie for girls) |
| FY 2007 | 4.54 million pairs | Aggregate exceeded 10 million pairs |
| FY 2008 forecast | 5.15 million pairs | |
| FY 2009 forecast | Over 5 million pairs | Aggregate planned to exceed 20 million pairs |
The use of asymmetrical soles giving runners better stability and smooth action around corners on athletic tracks and so forth has led to their reputation spreading among children by word-of-mouth, and each year the number of pairs sold has increased.
The population of children aged between 3 and 11 years is approximately 10 million, so annual sales of over 5 million pairs is the equivalent of around a 50% penetration rate.
Retailing at an average sales price of 2,800 yen, sales of 5 million pairs of Syunsoku shoes annually is approximately 14 billion yen on a retail sales proceeds basis.
---
---