Expansion of Syunsoku Brand
March 3, 2009
ITOCHU Corporation and Achilles Corporation have concluded a comprehensive licensing business partnership for the sports brand "Syunsoku."
Launched by Achilles Corporation in 2003, the Syunsoku junior sports shoes developed a tremendous following among mainly children. The latest agreement will expand the Syunsoku brand beyond the category of shoes to a wide range of products in other business categories by utilizing the strong track record and know-how in the world of character licensing of ITOCHU Corporation, who will be the master licensee of the comprehensive licensing business.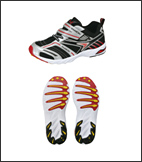 Achilles Corporation launched the Syunsoku sports shoes for boys as the company's own brand in the 2003 autumn/winter season, to help children fulfill their ardent desire to "run fast on sports day" or "not fall at the corner." In 2006, it launched Syunsoku LemonPie for girls, in a stylish, colorful design.
The company sought to construct shoes in such a way that would allow the runner to maintain speed by gripping hard even on corners where speed tends to drop, by employing asymmetrical soles with more spikes on the left side of the sole that bears the weight in track events. As a result, sales were exceedingly high two years after their launch, and their popularity among schoolchildren spread, especially coming up to the school sports day season, when TV commercials highlighted their asymmetry and the straightforward concept of "outperforming the opposition on corners." The number of pairs sold increases dramatically every year, with annual sales now exceeding 5 million pairs, and aggregate sales in 2009 are forecast to reach 20 million pairs.
Not only do the shoes now enjoy a high level of recognition and enormous popularity among children, they are also creating a sensation that could be regarded as a social phenomenon extending beyond the realm of sports shoes. For this reason, Achilles Corporation and ITOCHU Corporation have entered into this agreement to build a comprehensive brand business thereby allowing them to expand their business territory to other products.
Through its acquisition of the master license rights in respect of the Syunsoku brand for all items except shoes, ITOCHU Corporation will build a comprehensive license business that incorporates an extensive range of items targeted at boys and girls from preschoolers to elementary school children, such as outer garments, inner garments, nightwear, swimwear, socks, handkerchiefs, towels, hats, bicycles, stationery, school backpacks, bags, lunch boxes, and game software.
From the 2009 spring/summer season four items will be introduced into leading mass-merchandiser, specialist clothing store, and specialist shoe store sales channels, and in the 2009 fall/winter season 13-14 more new items will be introduced. It is planned to gradually extend the number of new items, increasing sales in the next three years to 15 billion yen on a retail sales proceeds basis.
In future, we will further improve the value of the Syunsoku brand and strengthen marketing initiatives by merging the know-how of Achilles Corporation and ITOCHU Corporation, with the aim of transmitting the powerful message of the "Syunsoku World" to around 10 million children from the ages of 3 to 11 years.
Content of the Agreement
Achilles Corporation and ITOCHU Corporation have concluded an exclusive contract for licensing approval in respect of the Syunsoku brand, for which Achilles Corporation is the brand-holder. ITOCHU Corporation has acquired the master license rights in respect of all items rolled out by Achilles Corporation with the exception of shoes.
In future, sub-license agreements will be gradually concluded with leading clothing manufacturers, general merchandise manufacturers, and so forth, for all items except shoes, for market deployment from the 2009 spring/summer season.
Purpose of Introduction
For many years, ITOCHU Corporation has developed character business targeted at boys and girls in the preschool to elementary school age-group, with a focus on TV animation and picture-book characters. By using this character business as a base for the introduction of Syunsoku as a brand that conveys a fashionable sensibility with a sporting mindset, we believe that we can further expand the character business of ITOCHU Corporation and create a stable enterprise in the long term.
At the same time, by merging the know-how it has cultivated over the years, the company is confident of its ability to contribute to improving the value of the Syunsoku brand even further.
Planned Sales
| | |
| --- | --- |
| Initial Year Retail sales proceeds basis | 2 billion yen |
| 3rd year Ditto | 115 billion yen |
Related Information
---