COO Message
Leading ITOCHU's new challenges on the front lines, I will continue to fulfill the responsibility passed down from 164 years of tradition.
I place high value on the "front lines" and "trust," and intend to continue comprehensively enhancing sustainable corporate value for ITOCHU by creating a positive feedback loop to solve social issues and expand our earning power.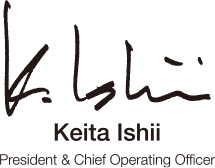 We Value the "Front Lines" and "Trust"
I was named President & COO in April. When I joined the company in 1983, I was assigned to the Chemicals Division, mainly working in the trade of petrochemical products. Since then, I have experienced two overseas assignments in North America and Thailand, held specialized roles in the chemical field, serving as the chief operating officer of the Chemicals Division and the president of the Energy & Chemicals Company. ITOCHU has adopted a management system that assigns roles to the Chairman & CEO, who drafts Groupwide strategies, and the President & COO, who implements and promotes those strategies. I pledge to fulfill these responsibilities. Firmly upholding the baton passed from President & COO Suzuki, I will sprint ahead with 164 years of inherited ITOCHU tradition.

Since being confirmed as President & COO, media outlets have highlighted my time as a rugby player when I was a student. This is somewhat puzzling since, by no means, did I join ITOCHU as a rugby player. Still, the truth of the matter is that the lessons I learned during those formative years laid the foundation of my corporate life. This includes the importance of being a team player, which is dependent on strong relationships of trust with your teammates; ambition to single-mindedly strive for victory; and a shared strategy based on meticulous analysis.

As part of my training upon entering the Company, I watched a video on the merchants of Ohmi that depicted how they lived. Even now, I vividly remember feeling that if I further polish my ability to build strong relationships and a foundation of trust that I cultivated when I was a student, I could also become someone who is trusted in the business world. Since then, I have valued the terms "front lines" and "trust" in conducting business. I visited customers faster than anyone, saw their requests through to the end, and built up trust. I remember it as a muscle memory, a subconscious reflex. This stance comes naturally now and expands connections with people, regardless of nationality, and ultimately expands business. The characteristic of the chemical business is to provide a wide range of raw materials to various business fields. Over the years, the connections I have built with people have expanded to become an irreplaceable asset, and have helped to swiftly pick up on trends in the ever-changing market. Going forward, my playing field expands to the entire Group, but I will continue to unwaveringly value connections with people.

So far, I have had numerous opportunities to help rectify projects and organizations facing difficulties. I have strived to serve as a role model and unify organizations to overcome challenges. We have achieved new business by brainstorming with all team members, forecasting the future of the market, establishing milestones for achieving our big vision, determining each role, and continuing to pour passion into these efforts. Let me illustrate in more detail on how the energy storage systems (ESS) business continues to expand through this kind of approach.
The ESS Born of Customer Feedback
Although there is some overlap in the period, the ESS business has developed in five distinct stages, namely the: 1) Development of ESS; 2) Installation of AI in ESS; 3) VPP construction and expansion of ESS sales; 4) Construction of reuse and recycling systems; and 5) Foundation for the next level of development and expansion.

At each of these stages, every member of the team thoroughly debated our vision for the next few years based on expected future trends and demand. We created a roadmap showing the way to achieving our vision, added subtle revisions in response to the changing situation, and swiftly and carefully upgraded and expanded necessary resources.

Stage 1: Development of ESS. Around 2010, with the intention of withdrawing from the simple sales business of battery materials, we began developing and selling ESS for household use, but it did not go well at first. A turning point was customer feedback indicating demand for ESS that can power all appliances even during a power outage. Due to lower capacity, other ESS on the market limit the appliances that can be used to 100V during a power outage. We began to build a high-capacity ESS unlike any other company. Even during a power outage, it enables the use of all appliances up to 200V. As a result, from around 2017, we were able to put sales on track.

Stage 2: Installation of AI in ESS. This was a major fork in the road in terms of developing the business for ESS. With an eye on the gradual end to the feed-in tariff (FIT) system for renewable energy after 2019, we thought it would be necessary to install AI in ESS and successfully accomplished this through a capital and business alliance with the UK-based Moixa Energy Holdings Ltd. Due to this effort, the AI analyzes various sources of information, including weather data and forecasts of energy use and power generation, to enable the control of the optimal charge and discharge for ESS. This drastically improves customer convenience and provides access to data related to the power use patterns of each household.

Stage 3: VPP construction and expansion of ESS sales. At this stage, the AI installation has gained more meaning. By bundling individual ESS together, centrally managing data accumulated from the AI in stage two, and optimizing control, we can, in the near future, build a virtual power plant (VPP), which is a distributed power supply platform. Our industry-leading sales figures of ESS broke 43,000 units as of March 31, 2021, and we are accelerating sales toward our FYE 2024 target of 80,000 units. Sales of individual ESS are directly related to current profit, and the increase in the number of ESS installed contributes to the expansion of the overall next-generation power network, and this business model connects to our future vision.

Stage 4: Construction of reuse and recycling systems. This stage of the story is about lithium-ion batteries used in ESS that have been promoted in tandem with stages 2 and 3. Actually, lithium-ion batteries are a bunch of chemicals. Leveraging the know-how that we used in the battery materials business, our policy is to promote two businesses going forward. The first is "reuse," in which we take lithium-ion batteries used for EV applications and reuse them for ESS. The second is "recycle," in which we collect materials from used ESS, such as nickel, lithium, and other rare metals, and return them into the raw material and battery material chain. We aim to complete a true circular system to ensure the stable supply of lithium- ion batteries and cost competitiveness.

Stage 5: Foundation for the next level of development and expansion. We are steadily promoting initiatives aimed at realizing the business expansion we envision for the next few years based on global trends.

For example, we invested in a company developing SemiSolid batteries that are low-cost, highly safe, and recyclable next-generation lithium-ion batteries; conducted proof-of-concept tests for realizing peer-to-peer (P2P) electric power transactions using blockchain; installed functions in ESS for charging EVs and measuring environmental value (points); and connected with FamilyMart and other retail stores. We will continue establishing a foundation step by step for vertically and horizontally developing business based on ESS.

The businesses built up by implementing these systematic initiatives create a positive feedback loop that draws in new businesses. Many companies are focusing attention on our business development that centers on ESS, and we have already launched various collaborations. These companies span various industries, including not only electric power companies but also housing, automotive, appliance and other manufacturers, as well as telecommunications-related companies. (→ Development of a Distributed Power Supply Platform Centered on ESS)
Balancing the Solution of Social Issues with Business Feasibility
Under "Brand-new Deal 2023" (FYE 2022–2024), we outline the basic policies of "Realizing business transformation by shifting to a market-oriented perspective" and "Enhancing our contribution to and engagement with the SDGs through business activities."(→ Medium-Term Management Plan "Brand-new Deal 2023")



These qualitative policies demonstrate our stance of taking on current global changes and issues by leveraging the Company's business characteristics and strengths. These are not two completely independent policies; they are highly interrelated.

Around three years ago, when Chairman & CEO Okafuji had just returned from a business trip in Europe, he asked me, "Are we doing anything for the plastic waste problem?" At that time, concern for this issue was low in Japan, and we had only been thinking of selling existing products. Spurred on by that question, however, we immediately began searching for business possibilities for biodegradable plastic and recycling. We are accelerating initiatives for the plastic recycling business as represented by our capital and business alliance with U.S.-based TerraCycle, Inc., which is garnering attention from the general public for collecting materials that are conventionally difficult to recycle and then recycling them into various products. We have entered the PET bottle business, developed garbage bags made from marine waste, and concluded a licensing agreement for technology enabling the chemical recycling of polyester. We will continue striving to create new business models while bringing in our partners.

In addition, we began next-generation fuel business initiatives, namely the currently topical hydrogen and ammonia. Going forward, these businesses are dependent upon legal and regulatory amendments, as well as infrastructure upgrades. It is possible that it will be necessary to collaborate with multiple companies. Accordingly, because it will take some time until business becomes practical and profitable, our policy is to seriously assess their feasibility and establish a foundation over the long term. In addition, at each Division Company, we are searching for and implementing various businesses and initiatives that balance responses to social issues with business feasibility. As shown by the example of the aforementioned ESS business, the most important point is to systematically implement businesses and initiatives established in a market-oriented perspective based on global trends. Leveraging my experience, I will implement a meticulous response and promote each project as President & COO responsible for execution.

Under "Brand-new Deal 2023," we outline targets such as offsetting CO2 to zero by 2040 and achieving net zero GHG emissions by 2050. However, even if we announce a medium- to long-term vision spectacularly in line with social demands, we will not fulfill our responsibility as a company unless we guarantee the continuation of the Company itself and its own future growth. We will steadily address social demands that need to be resolved while increasing our earning power. By fully leveraging the characteristics of our strong non-resource sector, we will accelerate initiatives for the next stage of consolidated net profit of ¥600.0 billion.
By fully leveraging the characteristics of our strong non-resource sector, we will accelerate initiatives for the next stage of consolidated net profit of ¥600.0 billion.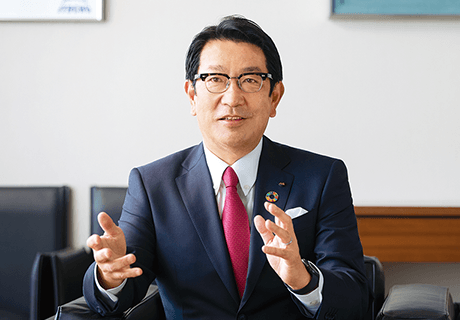 Enhancing Sustainable Corporate Value
Around the time I joined the Company, the general trading companies associated with the former zaibatsu industrial groups had imposing presence. To close the huge gap, I worked very hard on my sales activities. Without relying on the activities of just a few outstanding companies or divisions, we, including former managements and employees, diligently built up our business foundation through steady efforts. Our collective efforts have resulted in ITOCHU attaining the "triple crown" of general trading companies in FYE 2021.

However, new battles are already underway in FYE 2022, and any momentary slip could decide our fate. We will remain ever vigilant and, by creating a positive feedback loop for solving social issues and expanding earning power, we will continue comprehensively enhancing sustainable corporate value for ITOCHU.

I would like to thank all our stakeholders for your continued support.