Evolution of FamilyMart Business
With its network of over 16,600 stores throughout Japan and its huge customer contact points of approximately 15 million daily customer engaged in shopping, FamilyMart is a core business of the Group. By promoting a policy of "Realizing business transformation by shifting to a market-oriented perspective" and grasping the needs of the market and consumers, we will continue to further strengthen our existing business foundation and build new business models.
Creating New Revenue Sources by Making Stores a Form of Media
ITOCHU aims to create new added value that exceeds the existing boundaries of goods and services by integrating the real and digital worlds.

We aim to acquire revenue in the advertising media business through initiatives that make stores a form of media by installing signage (large display panels). We are currently verifying effectiveness with several manufacturers who joined this effort as advertisers. We continue promoting the expansion of the advertising media business going forward.

In the advertising distribution business, in October 2020 ITOCHU established Data One Corp. with FamilyMart, NTT DOCOMO, INC., and CyberAgent, Inc. and launched the digital advertising distribution business. Utilizing FamilyMart purchase data and membership data including "FamiPay" and "dPOINT CLUB," enables digital advertising distribution aligned with consumer preferences. We will continue working to realize more highly tailored marketing by gradually forming alliances with other retail operators, such as supermarkets, and enhancing the breadth and quality of purchase data.

In addition, to expand customer contact points, we are working to further increase the number of users of the FamiPay app. We aim to get more consumers to visit FamilyMart mainly by distributing campaign information and coupons. With the barcode payment function of FamiPay app, we started the "FamiPay Bill Payment" services for utilities and other bills and enabled external use at stores besides FamilyMart totaling over 100,000 locations nationwide. In summer 2021, we began such services as "FamiPay Next Month Payment" with the aim of expanding the financial business.

By expanding customer contact points mainly through the financial business and pursuing data-based external collaboration, we will increase the amount of data and utilize compiled customer data to maximize revenues in the advertising and financial businesses. Furthermore, by reinvesting this new revenue into existing businesses, we will create a positive feedback loop that further enhances the attractiveness of our stores and, in turn, enhances the value of our physical stores.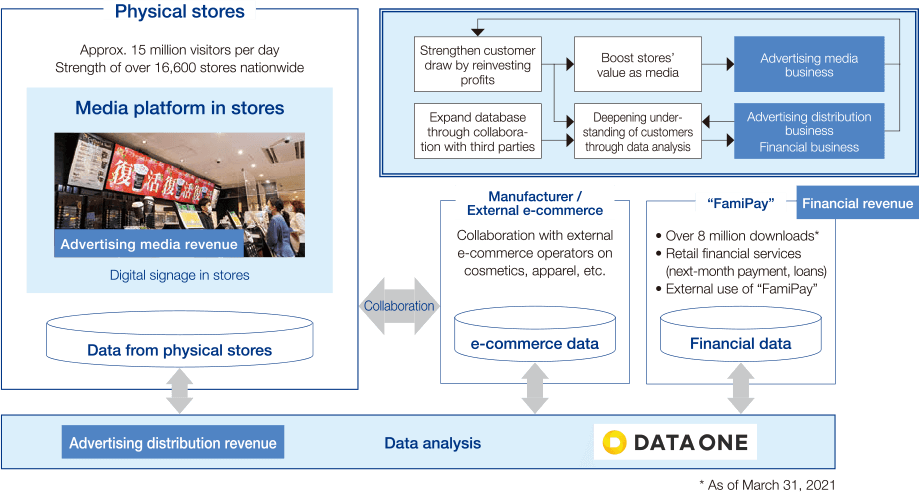 Optimizing the Supply Chain Using Downstream Data
ITOCHU is working to optimize the supply chain of the entire Group from a medium- to long-term perspective using downstream data.

At FamilyMart, we are working to enhance the accuracy of demand forecasts that leads to improvement in revenue for stores. We create a recommended order list based on best-selling products at stores that have a solid track record for selling rice balls, boxed lunches, packaged foods, and other products. We are distributing this list and verifying the effectiveness of increasing sales by reducing opportunity loss. Going forward, we will expand the number of stores and target categories, conduct further verification, and enhance the accuracy of demand forecasts in the near future to reduce food loss. In addition, we aim to reduce costs by optimizing the number of deliveries and course settings to stores from distribution centers based on demand forecast data.

NIPPON ACCESS, INC. is working to automate ordering to various food manufacturers. At some distribution bases, we conducted pilot tests of automating ordering through AI that utilizes FamilyMart ordering and sales data, NIPPON ACCESS, INC. ordering data, and weather and calendar data. As a result, we were able to confirm a 10% to 30% improvement in inventory reduction effects and a 50% reduction in ordering operations. We will put this into practical use starting from around 1,000 products for some retail customers, and then expand target products, customers, and distribution bases.

By visualizing and analyzing data, we strive to optimize the overall supply chain and aim to enhance productivity and reduce food loss. We will continue promoting development with an eye toward expanding the scope of initiatives by collaborating on data with partner manufacturers outside the Group.