Development of a Distributed Power Supply Platform Centered on ESS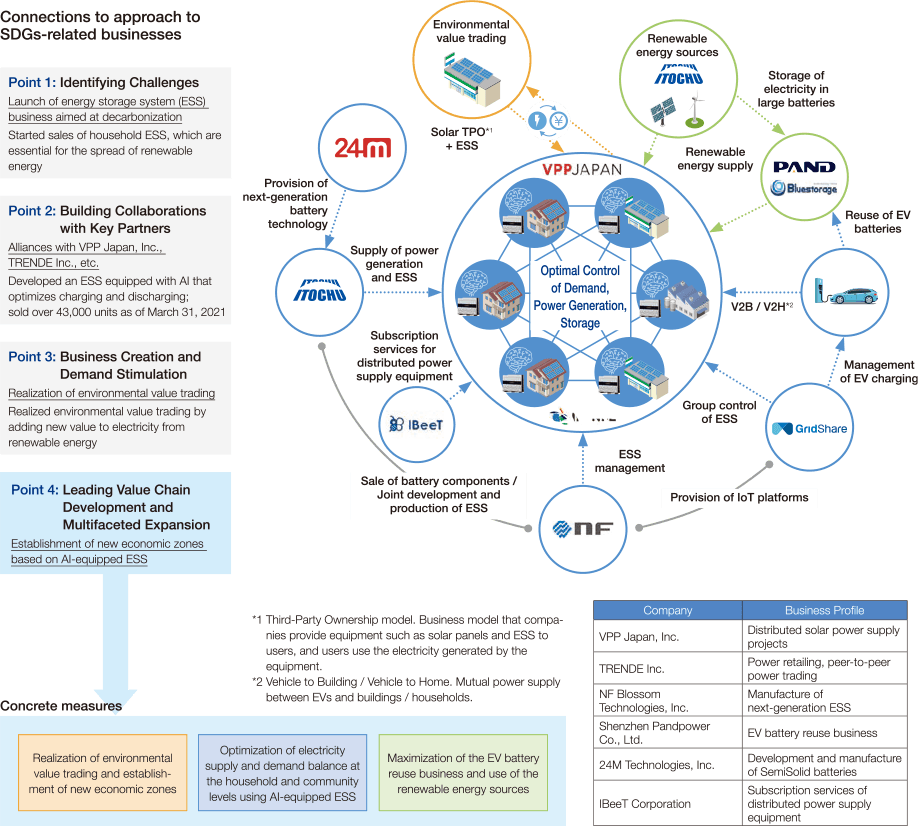 To Realize Decarbonization across Society
Achieving the Government of Japan's 2050 Carbon Neutral goal will require decarbonized power sources and electric power consumption management. As distributed power becomes more common due to renewable energy power generation, such as solar power, the electric grid, which had been one-way, is beginning to shift to a multifaceted two-way grid. Due to this trend, when (small- and medium-sized multifaceted two-way) grids are built, we need to efficiently control power consumption within the grid and eliminate waste. However, because there is a limit to what the power supply side can do, the power consumption side also needs to take action. To soften excessive burden on the power supply side, power consumption control is more necessary than ever. ITOCHU believes that its energy storage system (ESS) can fulfill this role.
"Smart Star"—The Key to Power Consumption Control
NF Blossom Technologies, Inc., a joint venture between ITOCHU and NF Corporation, developed and manufactures the "Smart Star" ESS series. As of March 31, 2021, a cumulative total of over 43,000 units have been sold. Smart Star features the AI function "GridShare," which enables efficient power consumption by analyzing and studying weather forecasts, household power demand, and other data to facilitate optimal charge/discharge controls for ESS. In May 2021, we launched sales of a new product, "Smart Star 3." For Smart Star 3, we developed a platform that measures the environmental value on a household basis, creates points, and awards those points to customers—the first such platform in the world for household ESS. Smart Star 3 also enables customers to charge EVs, which are expected to quickly become more common.
Establishing a Foundation Through Cooperation with Partners
Regarding the third-party ownership (TPO) model for solar power, which is a power source for ESS, we are focusing our efforts on cooperation with VPP Japan, Inc. (VPP Japan) in the commercial facility field, especially supermarkets and distribution warehouses, and with TRENDE Inc. (TRENDE) in the household field. TRENDE is also working on promoting peer-to-peer (P2P) trade, and within the pilot test, we have confirmed the results for which we expect future development, such as generating economic rationality for all households. We are promoting the development of this technology for application in the "Smart Star" series.

In addition, we are also strengthening Life Cycle Assessment (LCA) initiatives, which have been growing in importance. Since June 2021, we commenced operations of "Bluestorage," a shipping container-style ESS for commercial facility use, which utilizes reused EV batteries provided by China-based Shenzen Pandpower Co., Ltd. (Shenzen Pandpower) We will actively work to roll them out overseas going forward. Furthermore, we are building a truly circular system, wherein we collect materials from batteries that have served their purpose, such as nickel, lithium, and other rare metals, and reuse them in the raw and other material value chain we are constructing.

Moreover, in May 2021 we announced that we made U.S.-based 24M Technologies, Inc. (24M Technologies), which conducts R&D for SemiSolid batteries, an affiliate. Regarding SemiSolid batteries, which will soon enter a mass-production phase, 24M Technologies concluded a technology licensing agreement with multiple companies globally, and it is anticipated that the network will expand further. ITOCHU is working to promote development of licensees, acquire materials, and expand initiatives for next-generation batteries, including battery procurement.
The Carbon-Free Society of the Future
Currently, GridShare enables integrated management (collective control) of distributed power sources, which are promoted by VPP Japan (industrial use) and TRENDE (household use) at a top level in the industry, in addition to household ESS. Also, IBeeT Corporation offers subscription services for these distributed power sources and associated equipment. In the near future, EVs that are equipped with SemiSolid batteries produced by 24M Technologies' partner companies will also be connected with GridShare. By combining TRENDE's P2P trade technologies and Shenzhen Pandpower's recycling system, we will be able to provide various solutions for reducing carbon. The environmental value platform of Smart Star 3 connects households with various companies, such as convenience stores and supermarkets, and creates communities including EVs. Through these initiatives, we will realize a positive feedback loop for the environment and economy.